Hey all! My name is Pluto. I am a puppy mill rescue. You might remember me from my Daily Corgi debut back in May.
It's good to be back!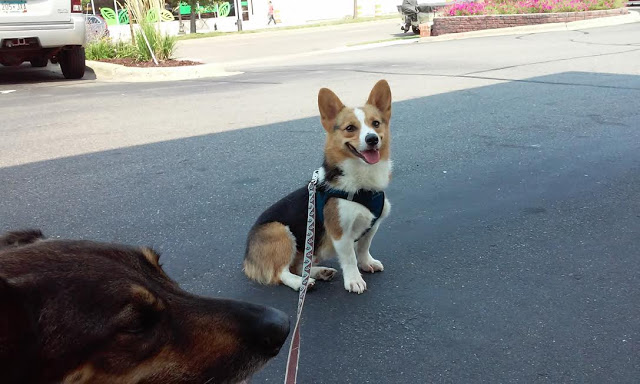 The good news? I am adjusting to life on the outside. And there is ice cream here.
ICE CREAM, people. Can you dig it?
My life has been busy and intense these last several weeks, as I set new boundaries and grow more relaxed with my new family and humans in general.
They say I'm "very vocal". Sure, I bark at strangers. Who doesn't? I bark at my humans, but they play the barking game too. Little barks back and forth. I pull out my cute howl, but lose my voice half way through every time, finishing with a silent howling pose.
A guy has to make himself heard AND seen, after all.
I'm not up for a lot of play, except for first outside trips in the morning and at night. We do laps together, but at some point I'm not sure whether we're playing or chasing, and I don't like being chased. It gets confusing!
This is me being confused.
Although I prefer the close confines of my kennel, where I can shred tissues and hoard my collected objects d'art into a pile, I enjoy hanging with the pack after walks, eating, or playing outside. Here and there during the day, the uprights pick me up and hold me. I relax pretty fast and have even fallen asleep on a few laps.
Nap laps ROCK.
I am bravest when out and about. "Irresistible" they exclaim. I'm shy, but I'll sniff hands and even let the nice ones pet me. As I say, irresistible.
Nothing I can do about THAT.
It's great fun stopping to smell every rose and greet every dog. I manage crowded sidewalks very well, staying right at my heel in crowds. I have graced several outdoor patios and dog friendly stores, where a good time was had by all.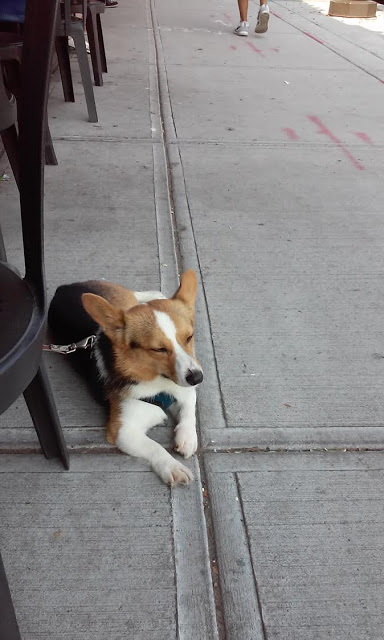 Getting my chillax on at Highland Grill.
My folks recently took me to a large family birthday party (19 people, 5 dogs, 2 cats), where I met several of nieces and nephews and 3 other dogs more my size. Despite the raucous atmosphere (football, board games, loud conversations, food) I did great, darting about the room by myself and with the other dogs. I laid with Aunt Tessa and cousin Emilia (mini human at six years old) for what seemed like ages. I'm pretty I might also have dozed off in the lap of a stranger!
Let it be noted for the record: I lose all anxiety In the presence of hard salami, venison jerky, and goldfish crackers.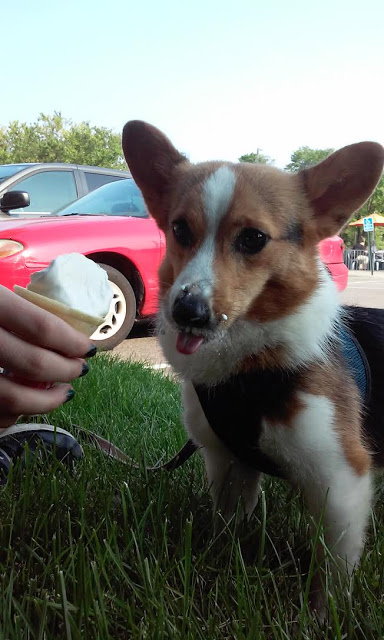 Yes, salami. Is there salami flavored ice cream yet? Humans, get crackin'! It's high time that deli meats and ice cream got together, don't you think? Am I really the first one to suggest this?
I've let on that I understand "outside," "dinner/eat," and "go/walk". In fact, I get visibly excited when they let the magic words slip. As for the great metal beast (car), getting in and out of that was hard at the start, but now it's a no-stress hop in and out. I enjoy standing on my back legs and looking out the rear window.
Don't we all?
At Minnehaha Falls Park, I followed my bro Carnot into the creek. Didn't quite know what to make of creek water. Swam against the current and did a bit of rock hopping before chilling out in the shallow end. I thought I'd had enough, but later during the park walk I plunged into the creek again! Who knew? Like Carnot, I prefer real water over bath water.
Must be the whole call of the wild thing, wolf within and all of that stuff.
Now.
About that salami ice cream …
If you liked this post, check out these!