Seven year-old Riley keeps it "gangsta" down in Nashville, Tennessee.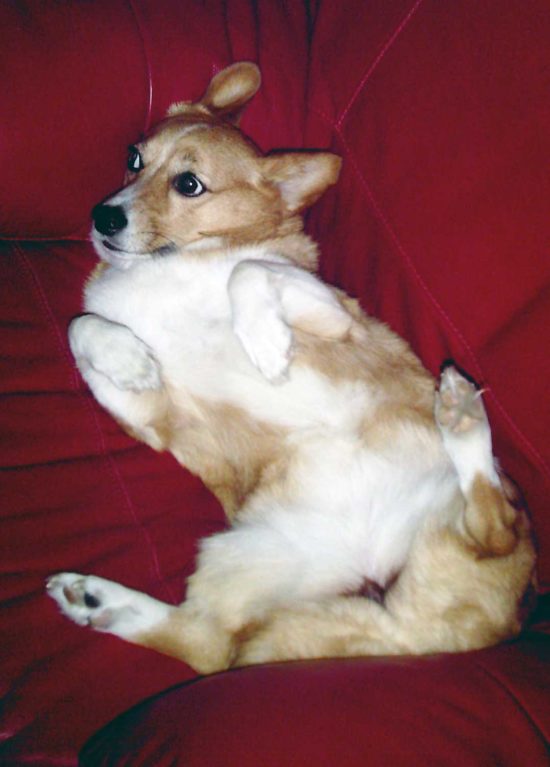 "Yeah, that's how I roll."
"I once ate a WHOLE burrito left on a TV tray.  When Mom left the room for a few seconds – POOF! The entire thing was gone.  Now that's gangsta."
"Ripley enjoys stealing the most comfy seat in the house" says Mom Jessica. "When I get up, nine times out of ten Ripley jacks the comfy spot on the couch. That's definitely gangsta."
"She also enjoys perching on the back of the couch and policing everything in the front yard through the window. With passionate barks, she lets me know that something or someone may — or may not be —  out there. Which means a possum or a killer in a hockey mask both get the same number of fevered barks."
"Of course, THAT's gangsta, too."
"Ripley loves to chase her arch-nemesis 'The Squirrel' in the back yard.  She's come very close to catching him, and one day they shall meet for the ultimate battle of wits."
"Ripley can play, play, and play all day! She loves to play fetch, and another game I call  'time to roll around and be cute'."
(Ed. note:  nice pantaloonies!)
"She has no bias when it comes to food. I feed her Innova, and she gobbles it up, but she has been known to plunder an unattended dinner plate."
"Ripley once ate an ENTIRE box of Girl Scout 'Samoas'. After a panicked call to the vet — who said Ripley would be fine — she curled up and went to sleep with a belly full of cookies."
"Ripley is definitely gangsta, and that's why I love her."
*  *  *  *  *
Welcome to The Daily Corgi, Riley!
You're a thief of hearts, too.
(This post first appeared on blog on 12/20/2010).