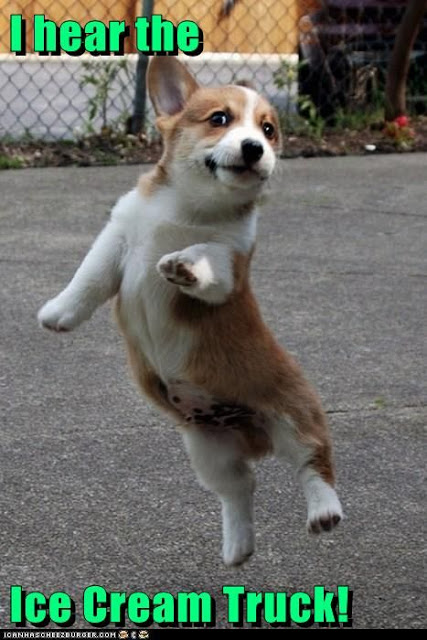 Toby
(not up for adoption, just the opening act).
Welcome to this week's Thursday Adoptables!
Here at
Corgi Connection of Kansas
Old Time Ice Cream Parlor, we bring you the sweetest treats from nubs to feet.
(Er, or something like that).
Let's meet today's sweet specials. Remember, stock is going fast. These favors are in limited supply at Corgi Connection of Kansas. While we don't ship by air, you can drive out to our Kansas location to pick out a treat to take home with you and enjoy for years to come.
Our Flavors:

Our current available offerings are Harley, Monroe and Bonnie.
Chocolate Chip Cookie Dough: Harley, 5 yrs old, male.
There is no better way to get all of the fun-loving sweet of cookie-dough and the exercise program to work it off again.

Butter Brickle: Monroe, 11 yrs old, male.
All soft and sweet with a few hidden lumps of toffee tucked away. Butter Brickle (like Monroe) has remained popular across the years.
Chunky Monkey: Bonnie
, old enough to know better, female.
Looking for a jumbo-scoop? Perfect for enjoying with a classic movie. Warning, this sweet treat will go right to the hips and lounge there quite happily!
Interested in one of these cuties? Visit the Corgi Connection site or drop Jeanette at Corgi Connection at line: jeanette@corgiconnection.com.
These Limited Editions Are Sold Out:


Yum, this nutty treat is a favorite with his family.
This salty-sweet treat is hit with his fur-ever family.
Pistachio-Mutt (Scooterpants)
This Corgi blend is a welcome treat that is enjoyed every day.




Pineapple-Coconut Sorbet (Shyla)
This tropical treat makes her family feel warm all winter long.
Pie a-la-mode
Ice cream is great, but some folks think it is even better with a slice of pie to go along. This Frito-scented treat is wildly popular with the locals.


Cicada Crunch (Olive)
Saving the best for last, a perennial Corgi favorite! Made from the finest ingredients. No Corgi can resist the satisfying crunch of fresh cicada!
Big thanks go out to fun-loving wordsmith Gretchen Anderson for today's post. You rock!
If you liked this post, check out these!