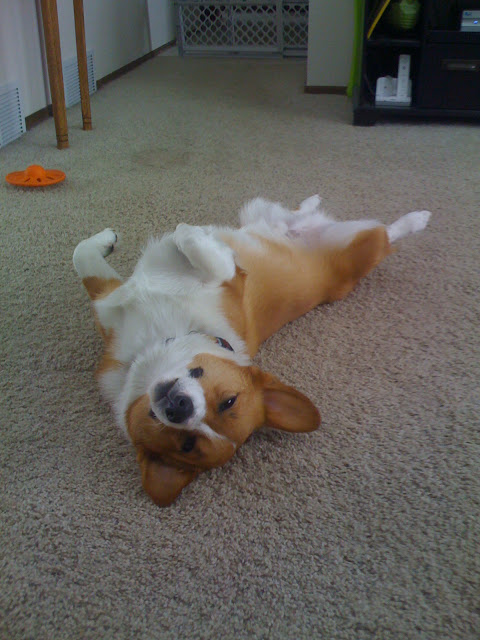 This here blogger is burnt out tired, dear friends! My pooped-out-ness has finally caught up with me. In a word, blarrgghhhh. We've all been there at one time or another, right?
In all seriousness (yes I can be serious when necessary), I need to press pause here. I have to take some time away from blogging to put my primary focus on recovering from some not-so-great health and related general burnout. Saying this makes me wrinkle my nose and reverse sneeze six times in a row! It's not what I want to do, it stinks, but it's what I truly have to do.
And honestly, it's kind of overdue.
I love doing this blog. I really do. There are few things I like better than Corgis and their stories and the affection their people have for them. In the six-plus years I've been doing The Daily Corgi (yes — it's been that long), there have been lots of highs and a few minor lows. I've taken some breaks and come back ready to roll every time, but one thing remains unchanged: the blog is still a one-woman show. I do it all myself, because I am a stubborn so and so.
Not at all like a Corgi, no siree!
Though my blogging isn't primarily for income, I'd be lying if I said it hasn't been discouraging to work this hard, only to see traffic to the site steadily thinning in the last few years. Less views on my blog equals less clicks and commissions, and ultimately less income. On average, I make enough to cover the cost of the monthly internet service and take a friend out for a nice lunch at Chili's. (Try the Southwestern Eggrolls. Major yum).
More importantly though, there is no way to count all of the thoroughly awesome people I've met doing the blog. The fun of the photos and stories and videos you send. As it turns out, the world is more full of excellent, fun, kind and interesting people than I ever thought possible. What a great discovery it has been — and all because of a blog about Corgis! Who knew?
I owe my fantastic readers a big thanks for everything. Thank YOU. It's all been pretty darn wonderful, and I am more than grateful. Tired, but grateful. All of your photos and stories remain vouchsafed in my heart — and here on the blog. Remember, you can always peruse the archives, where every post I've ever published is still up and running.
Bear with me, if you can.
I do so hope you can.
I will be back.
I still get e-mail at thedailycorgi@gmail.com, so if you'd like to write, please do! It is always a pleasure to hear directly from readers. I enjoy your Corgis nearly as much as you do, so send me some smiles, OK? Corgis make me grin. It's what they do best! I could use some extra grins right now, maybe even a giggle or two.
Go ahead, send me some licks of love.
Because The Daily Corgi will come back in SOME form eventually, I invite you to add your name and e-mail address to my notification mailing list. To be among the first to know when I start publishing Corgi stuff again, simply send a message with "mailing list" in the subject line to thedailycorgi@gmail.com.
That's all there is to it. One quick message and done. I will never use your e-mail for any purpose other than notification about the return of The Daily Corgi, in whatever incarnation comes next, and possibly (big dreams!) a book compilation of my favorite posts from the blog's six years.
It could happen. You never know!
Athough the blog won't publish for a time, I will still run the Daily Corgi Facebook page, and remain active on twitter. You don't have to have a Facebook account to view the page, and it's all Corgis, all the time. What's not to like?
It's like I always say: Corgi Power is for keeps!
Laurie Eno
Founder & Publisher
The Daily Corgi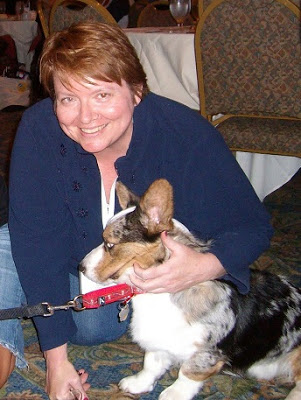 Me and Dewi, of
Chronicles of Cardigan
fame. If you aren't familiar with that blog, head over and prepare to be amused.
If you liked this post, check out these!