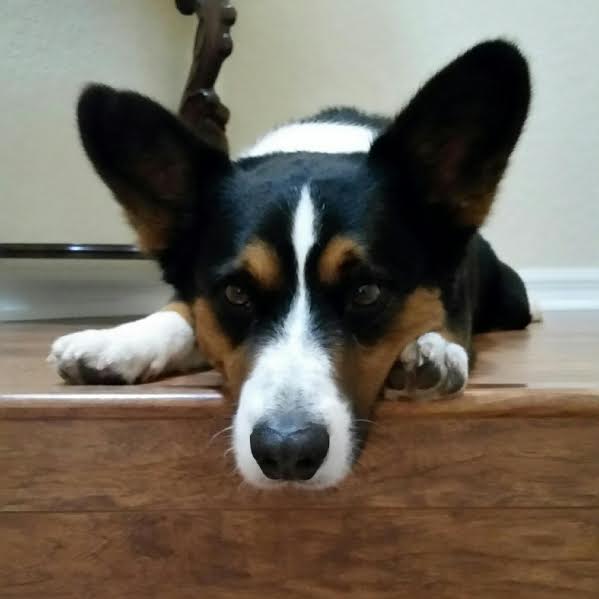 Hello, my name is Kelvin. The way to my big heart is paved with chewed Nylabones, brewer's yeast tablets and the remains of squeaky alligators. I love to be burped after meals.
Pleased to meet you!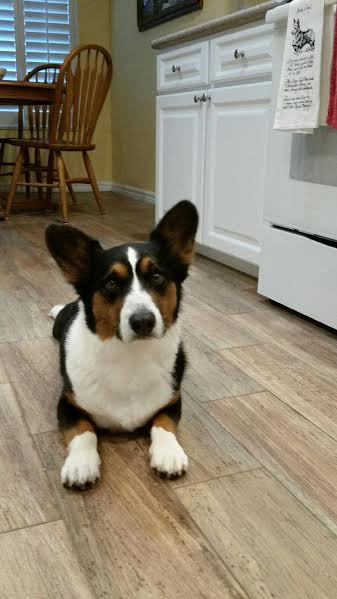 I came to live with my family in April of 2013, when they found themselves Corgi-less after the loss of my predecessor, known (to me) as That Other Dog Who Kept Their Hearts Warm, But Not As Warm As Mine, So Says I.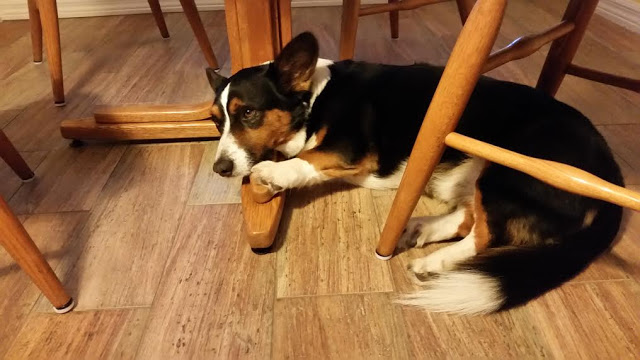 My folks found me through a rescue group in Ohio, where I'd been taken after a few years in an Indiana puppy mill. I'd been treated poorly there in the mill, but in the hearth and home of these new humans — and the help of a trainer — I've come a long way. In fact, I'm quite an affectionate and wonderful Corgi, if I do say so myself! I was one lucky dog, landing with people who believed in me and saw what I could become.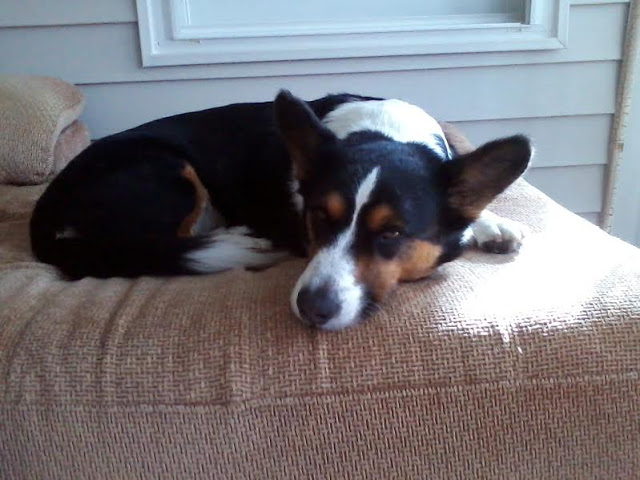 Don't let my conservative countenance fool you, my friend. I'm one quirky pupper. After meals, I get one of my humans to burp me. What? It's a Corgi's prerogative. Shameless? Nah. Simply practical. I know which side my bread is buttered on.
This big brain serves a big purpose!
I enjoy dozing on the widow seat in Dad's home office while he's working, or on the couch in our sun room. As much as I dig my dear Dad, nothing quite holds a candle to Grandma's visits. (Hi Grandma!)
Everybody loves how I lay with my legs flat back behind me. I'm the first Corgi they've ever had who did this. It's a natural talent, really.
Thank goodness I'm a Cardigan Welsh Corgi, because nothing is more fun than chasing your tail! And what a tail it is. Quite an expressive appendage, isn't it?
That's my story and I'm sticking to it.
Corgi On, Corgi Nation!
(This Wayback Wednesday post has appeared previously on The Daily Corgi).
If you liked this post, check out these!