Late last week, I invited the Daily Corgi Facebook community to tell me what works in helping them find peace, sense and purpose in an often topsy-turvy world.
The responses came rolling in, and they were wonderful to read! Many of them included photos of the Corgis who play such an important role in living your best lives.
There was so MUCH goodness, such gratifying thanks for my work. (Can't tell you how much I appreciate it).
I just have to share some of it! Carry it forward, spread it generously, remind myself and especially YOU, dear reader, of what goodness is happening in so many places, every day, all around us.
Me, I guess I'm mostly just grateful. For you, for this platform, for the riches we can celebrate together because of a common Corgi craziness … just grateful. For eight years now, so much to be thankful for.
Here's to Corgi Power! Today and every day. Pass that goodness around.
Laurie
Chasing this guy thru the dog park, reminding him that the chihuahuas are NOT his, despite what he thinks. He absolutely adores them and will stalk them — even try to go home with them, and loves when they attack him!
— Christine Tracy
My girl Saige has helped me with so many trials in life. She ruptured her disc in July, and since she's 15 years old, back surgery wasn't an option. I just want her to be pain-free, and have quality of life. Happy to say that she's healing, and totally rocks her acupuncture and laser therapy! Saige is embedded in my heart, and provides me meaning and peace. ❤️
— Sherri Carter Kuhlman
One day at a time. Look for love. Be super kind to others and it comes back to you. Holding newborn babies. A corgi's unconditional love and kisses. Friends that care and do stupid things to make you smile. A friend that 8 years ago posted funny pictures (including this one) of my boy Zach. Thanks for being there for us for 8 years!
— Pamela Holly Fredrickson
This sweet little corgi, she makes me smile … I love Leia, and she is loved by everyone she meets!
— Ronald Gambrell
My corgis and The Daily Corgi brightens my day every day!
— Nancy Nygaard
Rhys and I are grateful for the laughter you bring us and the sense of community we find on The Daily Corgi.❤️
— Jeanne Hewes Huyser
Sometimes a smile can make your day!
— Joey Nabert Shepherd
Walking with my Evie makes me laugh and smile.
— Annemeike Loos
This guy. Not just him, but since he joined our family I have changed, for the better. I was really sick for a few years and a lot of the time couldn't get out of bed. I was on the mend by the time Benny came around, he just brought so much to my life. I love my family, husband and kids, and I love all of my fur babies, but Benny and I have a special bond.
— Lori Frawley Buffinton
These two ladies definitely help with my peace and sanity! They are excellent listeners to all my problems and both happily (the corgi more than the pony!) absorb tears when I feel sad. A little down time with my animals is often all I need for a little pick me up- they really are life's best medicine. ❤️
— Nicole Hudak
Corgi love.♥️ Your page brings smiles daily. Thank you.
— Gina Guarino
Sometimes all we need is a little Corgi nap to make the day better. Mason is my 12 month old grandson. Brodi is an 8 month old fluffy Corgi.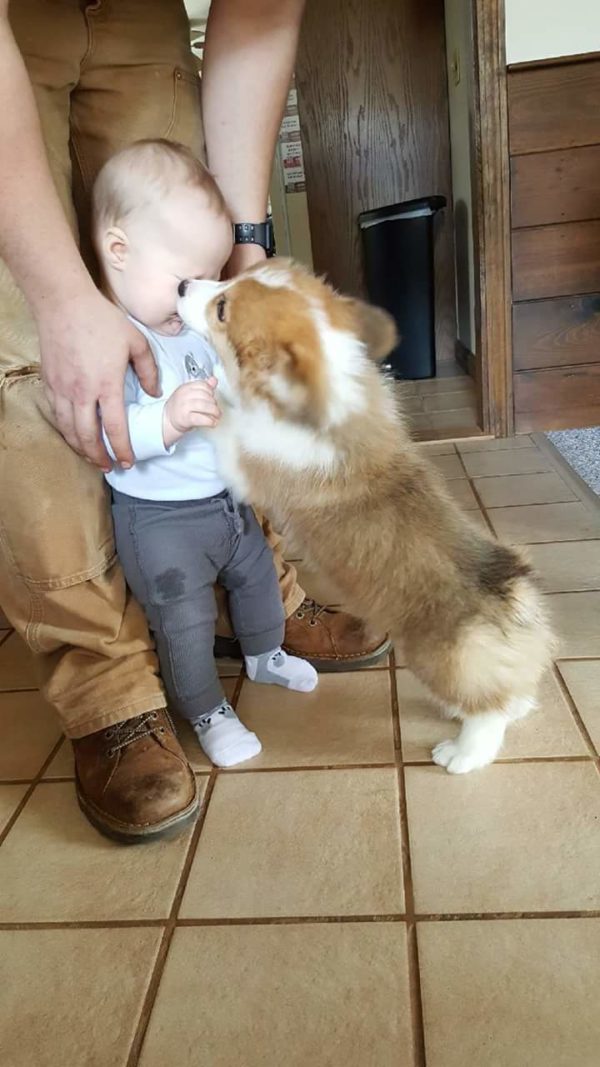 This was their first meeting. Love from the beginning.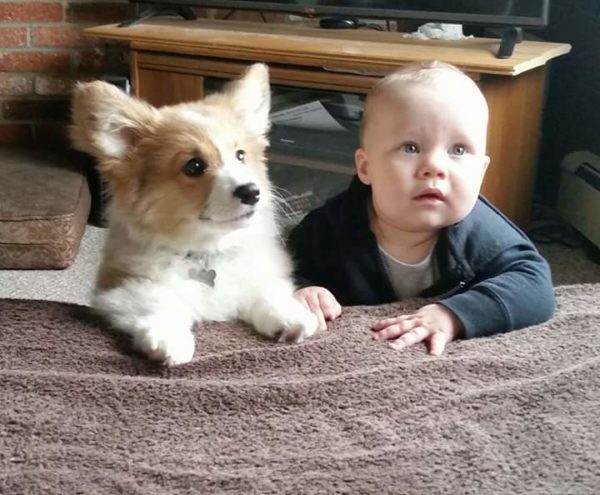 They have been visiting weekly since we got Brodi and, as you can see they are best buddies.
— Gary Sinclair
The Daily Corgi page has brightened many days for me the last 2.5 years I've followed. Also love the blog. It's crazy to explain to non-dog people, how you love dogs and folks you've never met in person. The support we all feel from posts and comments in them. Middy, Perle and myself thank you Laurie for The Daily Corgi.
— Julie Amundsen
My boys barking out a big "thanks!"
— Stephanie Odermann Whisler
Art, banjo, and Yoga — all done with my sweet Max by my side.
— Marilyn Ellis
Mia's little sploot. How could anyone not giggle at this?? I enjoy nature, my garden, chickens (Sweet Pea, Dandelion and Pansy), our warm, cuddly kitty, Lavender, and most of all, a big hug from my hubby, Ross really helps. Hugs are miraculous!
We are adopting a 12 month old Belgian Malinois named Rafa. Giving him a good, happy life after his rough start in life makes me happy. ❤️
— Renee Wrede
I love reading your page over here in Australia, with my two fur kids Marylou and Looker. Keep up your wonderful work.
— Ruth Stevenson
Porter's goofball antics. (He's the one toothing a hair tie to force a trade for a cookie).
— Tanya Stone
I find comfort with my best friends …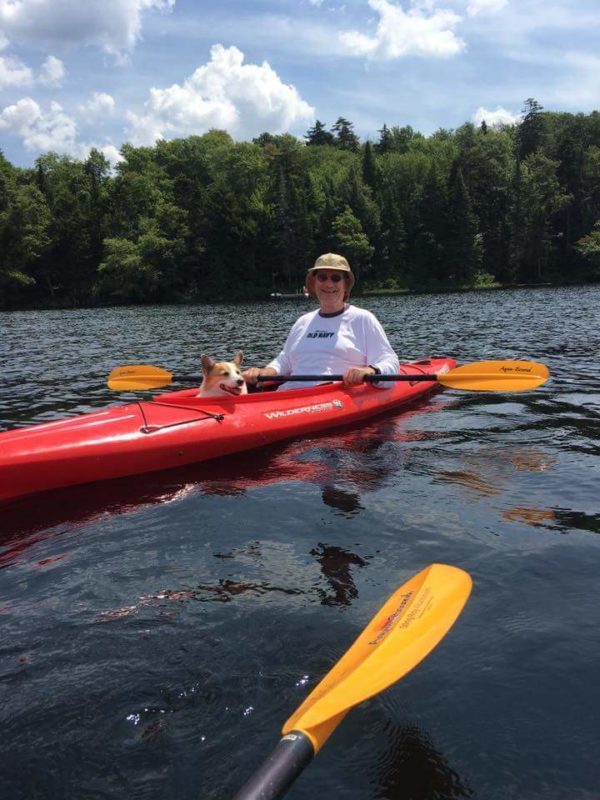 … and Della likes the kayak!
— Jerry Bailey Eppinga
Roscoe is always close by, keeping me company. I'm a stay at home mom, Girl Scout troop leader, and PTO volunteer. Roscoe loves when all the scouts come over for a meeting. He tries to herd the girls and the parents. If the girls are upstairs and adults downstairs, he hangs out on the stairs, sitting half way between our groups. At four feet long from the tip of his nose to the tip of his tail, Roscoe really takes up space!
— Vicki Kastner Weiss
Slowey says meditation and a gratitude practice do wonders for his human … and snuggling under a blanket on the couch works for him!
— Rita Chenoweth
Just as I count on Fidgit to provide moments of joy in my day, I also check often on your page for affirmation and grounding. Thanks for all you do.
— Cynthia Drummond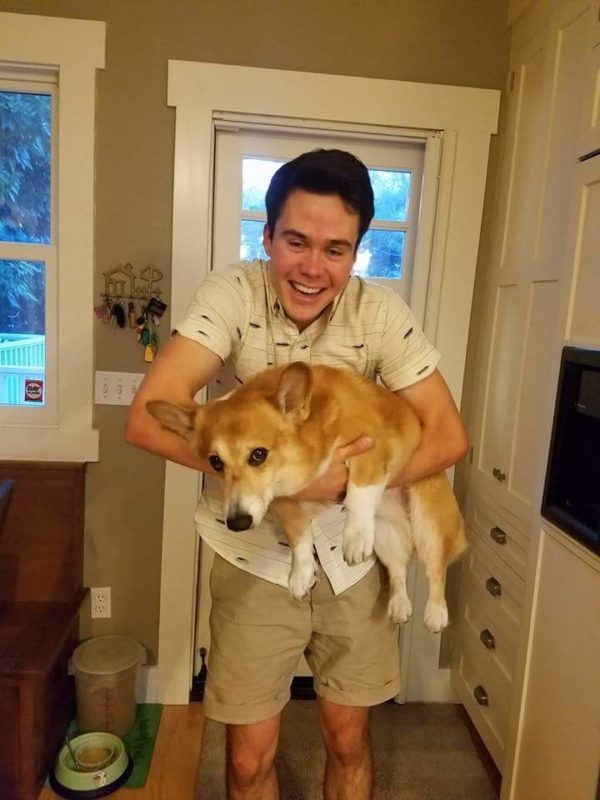 Beyond having my beloved corgi Caleb (being held by my son), I get through this troubled world by realizing how fortunate I am compared to so many others. One step, one day at a time … I am thankful for The Daily Corgi. 🙂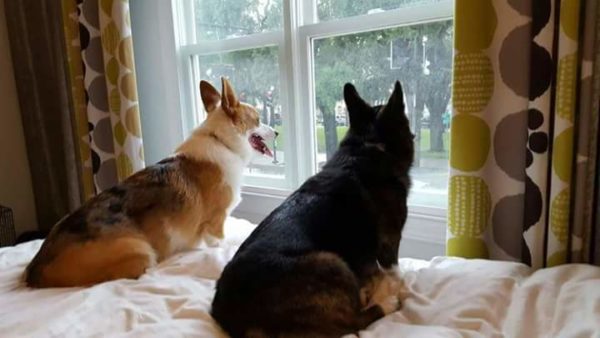 There is just something about a Corgi that makes us happy from deep within … their personalities are amazing!
— Martha Low
If you liked this post, check out these!