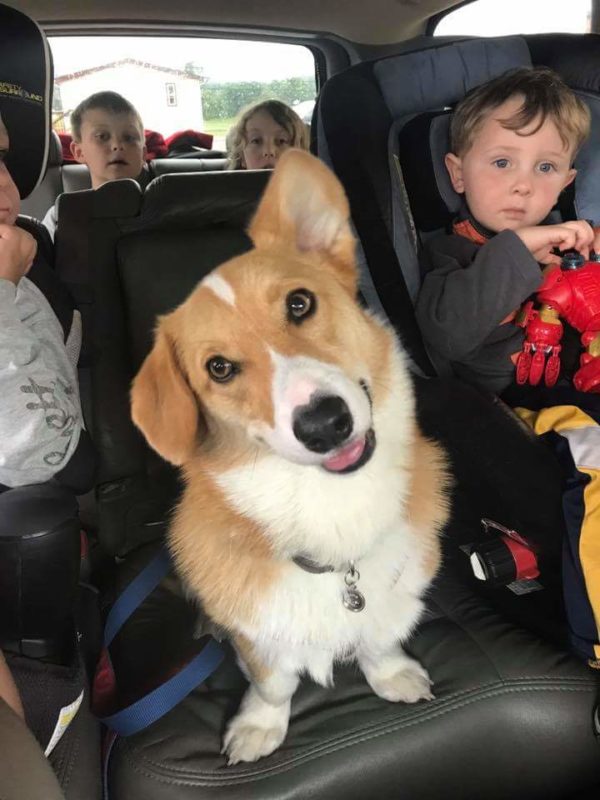 BOB BARKER
This is Bob Barker, he brings so much joy to our family and every one he meets!
— Sarah Cushman
Zuca and Snickers are the best buddies! They go on hikes with us, swimming with us, chilling on the couch with us. Always a smile on their faces!
— JoAnn Cooley Schimke
Sammie aka Muffin had big shoes to fill and is doing it quite nicely. ❤️🐶
— Sarah P. Parks
That's my Ziggy! I'm grateful for the laughter and kisses every day. Love you little man!
— Leah Kirkman
Our Daisy, who is always ready to play, is 1-1/2. Perfect first dog! Love her!
— Brian Erickson
This is Branwen from NYC, just turned 10. Sweetest creature on planet Earth.
— Liz Lindsey
We are grateful for Elsie and Emory for being such troopers during Hurricane Harvey and for only having (minor) cabin fever.
— Molly Jeannine
Grateful for all the love Georgie brings us! Follow him on Instagram for all his antics!
— Susanne Ungerer Rutilla
Ruby passed away unexpectedly in November. She was my companion for 11 years. I told her every day I love her and how much she meant to me. ❤️❤️❤️
— Barbara M. Hutchinson
Nixon Bo Bixon – what's not to love? He is the best part of waking up and those smiles bring joy beyond measure. ❤️
— Heather Applebee Reyes
Our sweet Pippa! She is very loving, smart and sassy! She is 9 months old.
— Karlene Covilli
Sophie came when my heart was sad. She is love, clown and pure joy. I have a much richer life with her. So grateful.
— Cheryl Campbell
London and his non-corgi little brother Dobby are our everything!
— Mark Allen
My Morgan rescued me at a time in my life when I felt I had nothing to live for. Now I live for her cuddles and snuggling and her smile. ❤
— Trisha Lester
We are thankful for Betsy — otherwise known as Betsy McButter, Betsy Boodle, and Squirrel Puppy. She brings Corgi happiness to our house.
— Wanda Tigard
I'm grateful for the unconditional love that Milo gives me every day. He makes my heart incredibly happy!
— Dixie Lynn Meeks
Miss Ruby keeps me sane as I take care of my elderly mom suffering from dementia.💞
— Deb Lohrenz
Our beautiful fur babies Bella and Carli! We are so grateful to have such loving, funny and happy corgis! They are the best. ❤️
— Ann Call Cridelich
Rocky came to me after I lost my first Corgi, Ginger. He healed my heart. He has been my doll baby for 11 years.
— Elizabeth Vick Mefford
We love our sassy pants, Ollie, for his "big dog" confidence & his stubby charm. He's a loyal guy who makes us feel happy and loved each day.
— Dina DiStefano Hartung
Minnie Cooper — climbing the walls, so I don't have to. Do they know when you need a pick-me-up? Always trying to make me smile, ALWAYS.
— Sharon McLean
My sweet boy, Diego. After a rough day of work or school, he's always there and happy to see me.
— Keegan Thomas Spillane