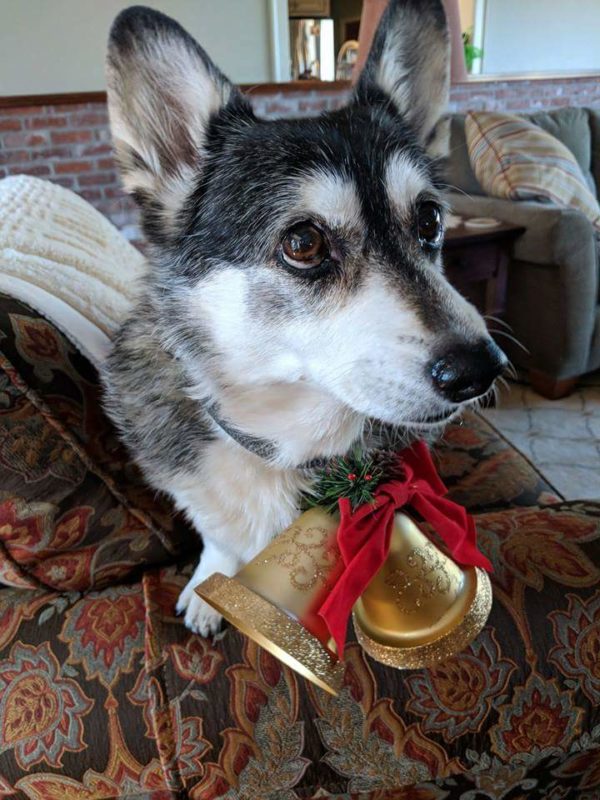 Maggie is seriously barooootiful with her bells on!
You have to admit, there is something extra special about senior Corgis. These "classic models" are the embodiment of "Corgi On"! Whether they are battling age and infirmity while showing who's (still) boss or still inspiring their families as "angels on high", they occupy a special spot in the heart of Corgi Nation.
We love you, seniors. Here's to YOU! Today, tomorrow and always.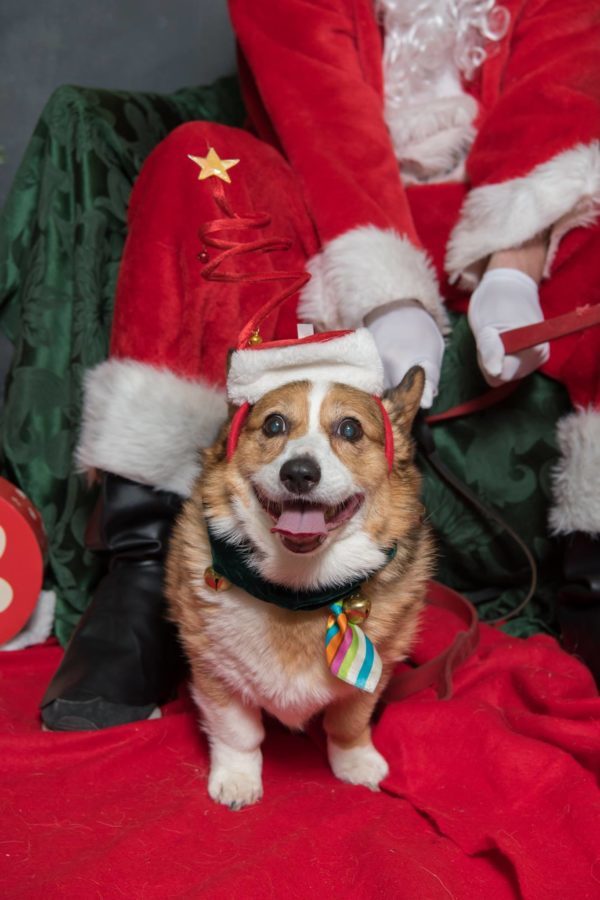 Queen Bodecea
Queen Bodecea is a feisty 13 year old Corgi doing great and definitely rules her world. She hurt her back a year ago and was paralyzed for 48 hours which was terrifying, but with the help of acupuncture she is back to chasing those chipmunks! — Peggy M.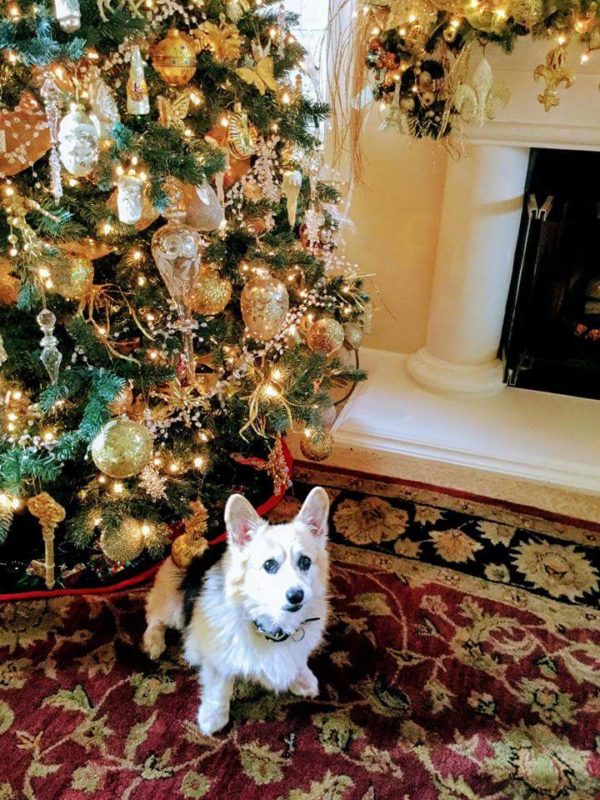 Kokomo
A Kokomo kind of morning! She's suffering from pancreatitis, autoimmune skin disorder, and deafness, but brings pure unadulterated love to our lives every day. She's pushing 16 but is Corgi strong! — Kokomo's Mom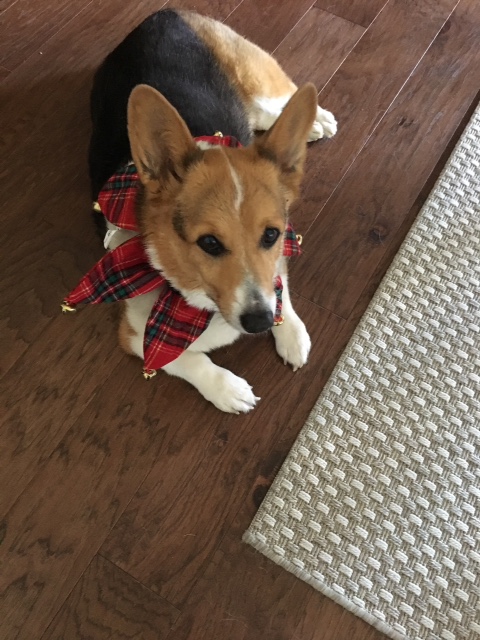 Thatcher
Sweet Thatcher is still enjoying life, despite struggling with degenerative joint disorder and temporarily tolerating the photo op jingle collar! She's been in physical therapy for two weeks for her hind leg. Bless her sweet little heart, she works so hard for peanut butter. — Peggy M.
Jasper and Franny
Here are Jasper (on the left, nearly 10) and Franny (she's 11 and a half)! Jasper had to go through extensive rehab last year after he ruptured a disc in his back. Franny has recently been diagnosed with arthritis in her hips. They have slowed down, and they both have a "hitch in their giddy up" on our (shorter) walks, but both of them are still tough and spunky! Jasper will still chase and yell at any squirrel that he sees, and Franny still tries to be the boss all the other dogs she meets — even if her legs are shaking while she does it! — Erin L.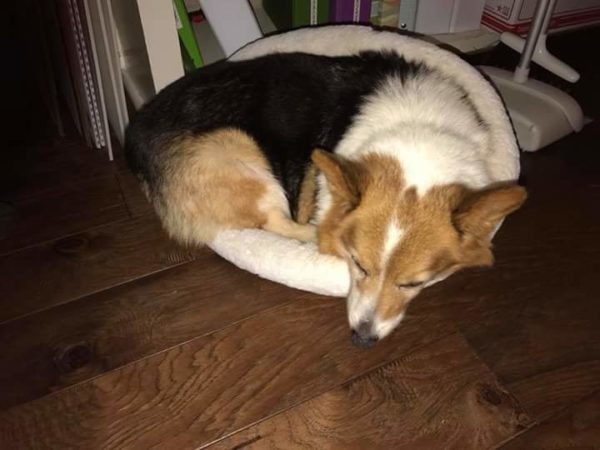 Jekyll
My sweet Jekyll will be 18 years old in March 2018! He can hardly see and his hearing is failing. My heart breaks because he no longer can do his normal walk. The distance has gotten too much for him this year, but he's happy and that's all that matters! In this picture, Jekyll is stealing his Chi brother's bed. — Helen D.M.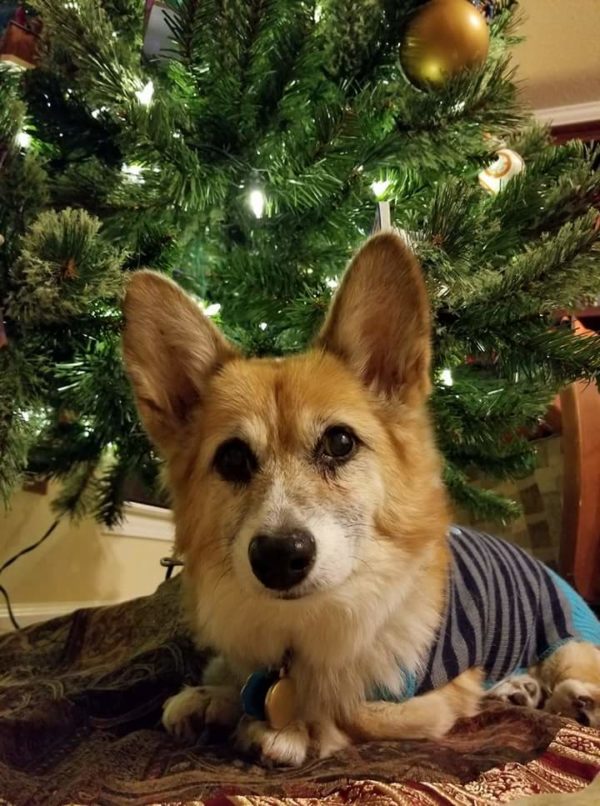 Bullitt
Bullitt sends his senior corgi love and says stay strong and Corgi On! He has bouts of pancreatitis, degenerative joint disease and is deaf as a post, but that doesn't stop him! He's almost 15 and still going! — Nicole H.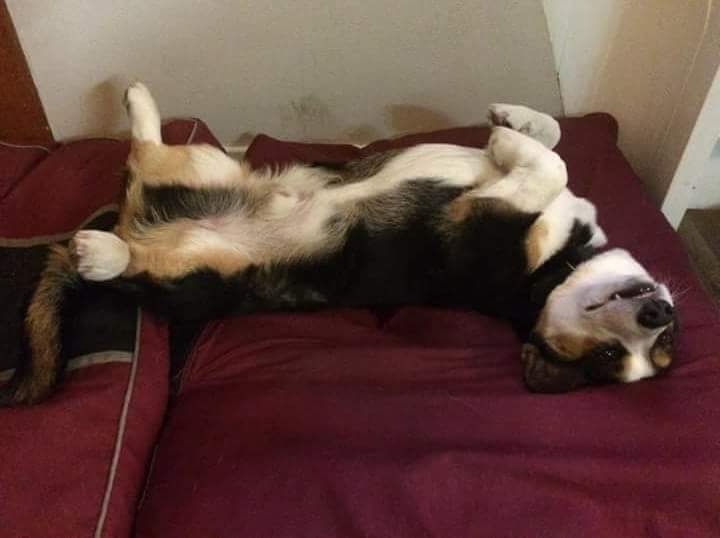 DJ
Gorgeous DJ turned ten back on December 6th. He's going strong but not as fast as when he was younger. His legs are a bit stiffer, but in his mind he is still a puppy. Unfortunately no Christmas picture because here in Norway we do not decorate before the 23rd of December. Instead a picture of DJ in real "Corgi style." Love my boy! — Titia V.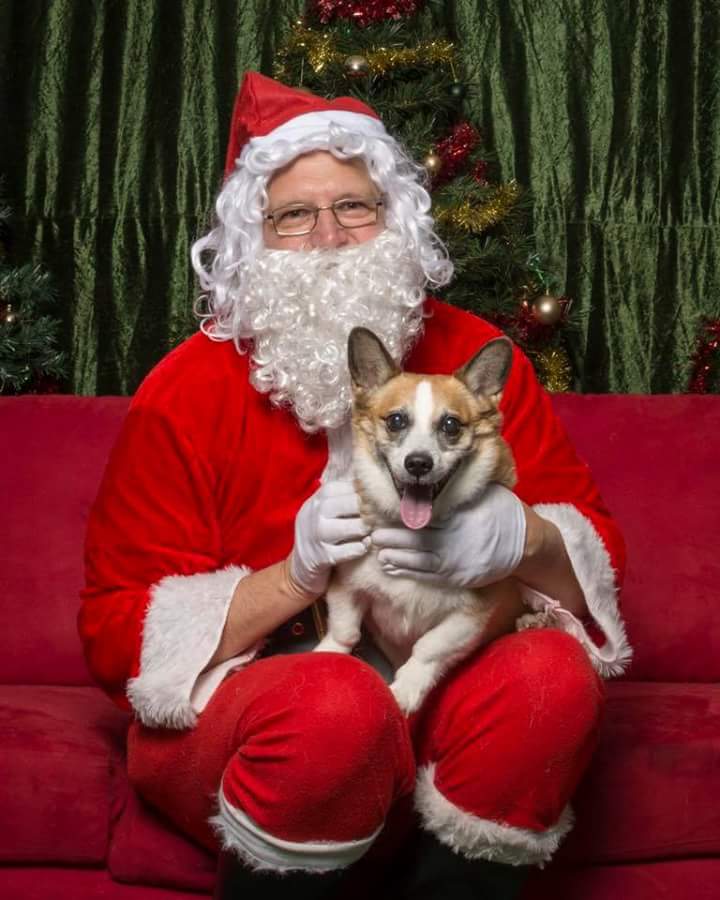 Duke
Duke just turned 10. Over the last 2 years, he has been diagnosed with lympho-plasmacytic rhinitis, had the cruciate done in both hind legs, had a 400gram lipoma removed and has just been diagnosed with colitis. — Melissa D.D.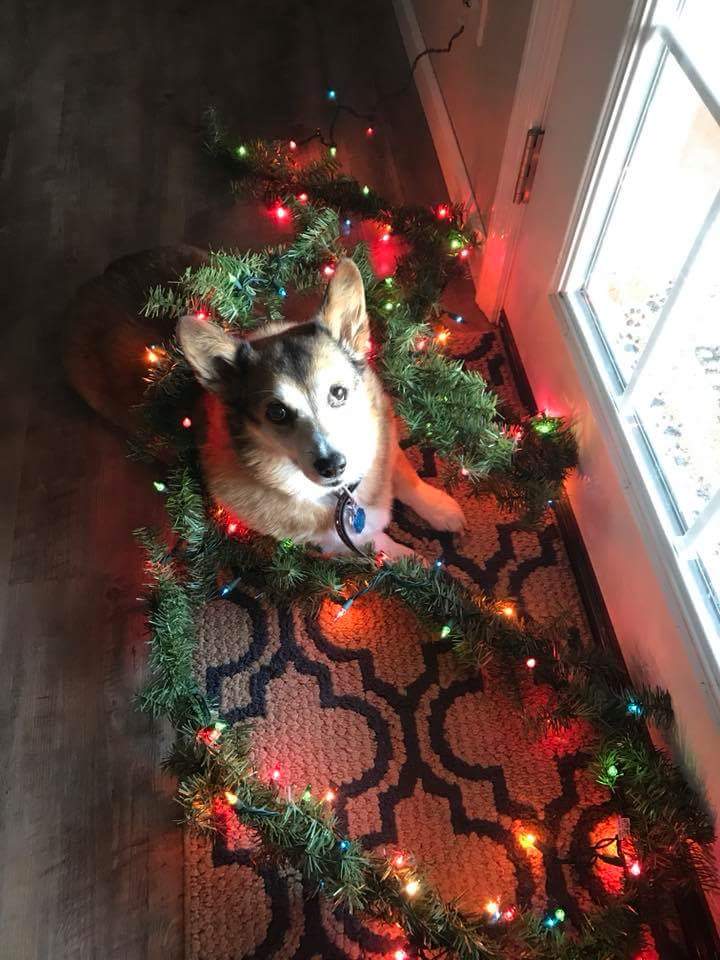 Abby Dabby Doo
This is 14 year old Abby Dabby Doo! Her birthday is in July. She struggles with arthritis in her back and hind end and her hearing is definitely compromised, but she can still see and her snooter works well for finding tasty morsels on the floor! She can't run like she used to but will still enjoy an indoor game of fetch or some small zoomies with her terrier mix and mini Aussie younger siblings. — Stacy K.
Cally Sue
We are blessed and thankful to have Cally Sue as a member of our family! — Sharon H.G.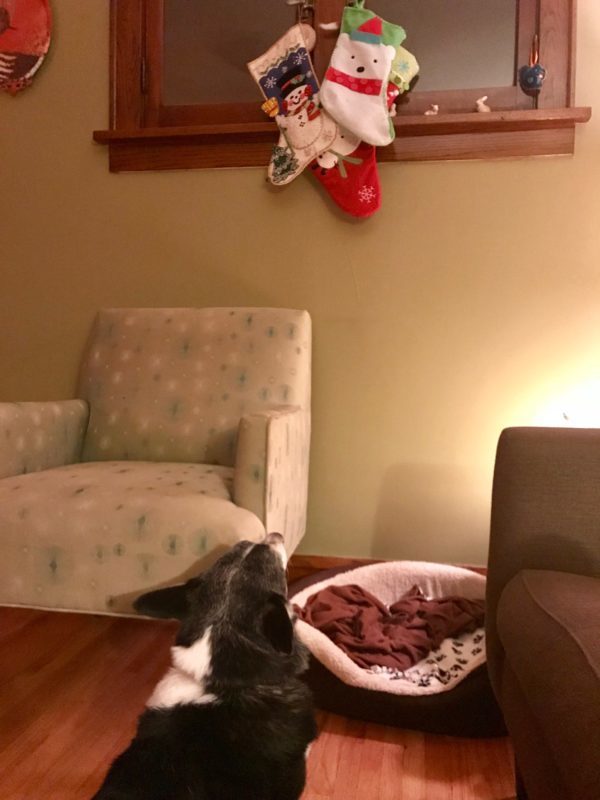 Max Power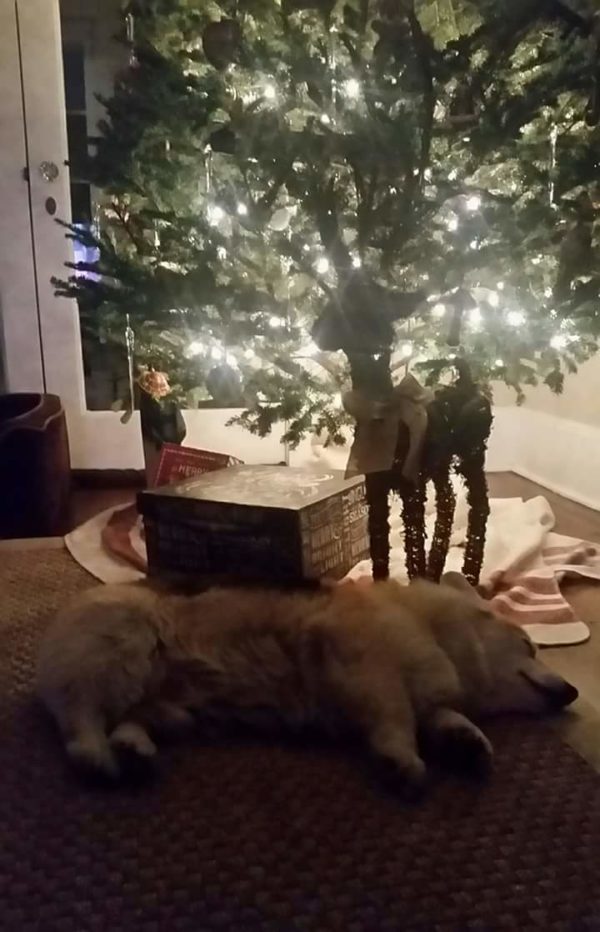 Dewey
The only and best present I am blessed to have under my tree this year is a 14th Christmas with my sassy nugget Dewey. He turns 15 on March 1st and still gets crazy to go on his walks everyday and chase his fur-brother around the yard. He is Corgi Strong! In 2011, Dewey had surgery to remove a ruptured disc in his neck that left him completely paralyzed from the neck down. After months of trying to keep him confined, carrying him, holding him up until the swelling went down to see if the surgery was successful, then rehab, he completely recovered. The following year in 2012, he tore his ACL and needed that repaired, then he fractured a molar and needed that removed. He now has hypertension and the medication started really upsetting his digestive system, so after 2 years we are trying to figure out how to manage it off those meds. Still, Dewey's a happy, energetic, organizing love bug! My cup runneth over.  — Jennifer H.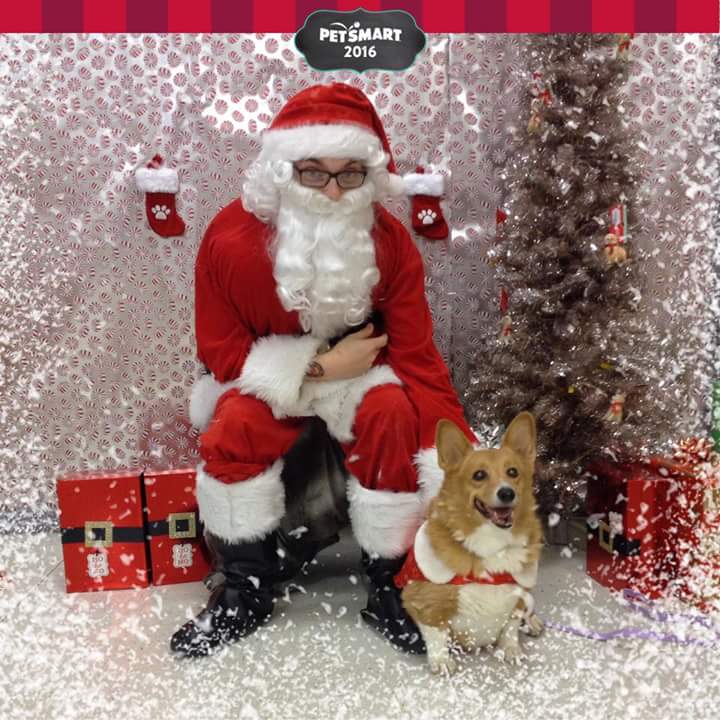 Dixie
XOXO
This is Dixie, who passed in October. She was 13 years old and about a month after this picture was taken (last December) she was diagnosed with diabetes. — Alexis S.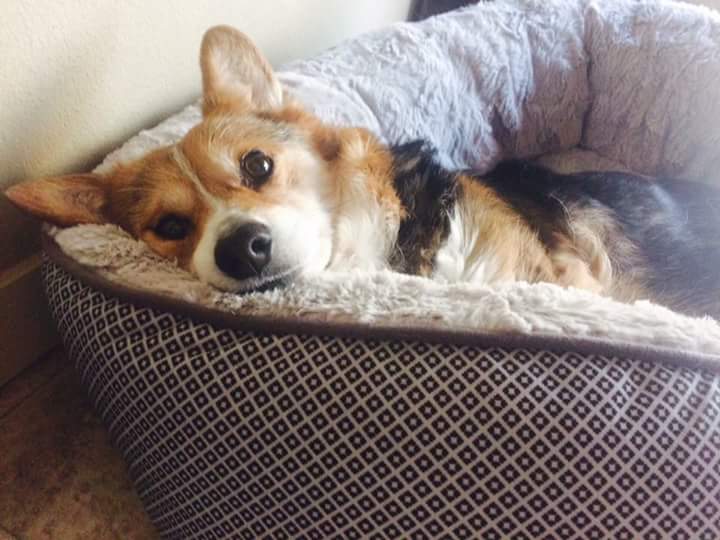 Bella
This is my old gal Bella, she just turned 12 years old. She's got arthritis, cataracts and is getting crankier as she ages but she is still my baby girl! I love Bella infinitely and can't imagine life without her sweet face. — Kristen Z.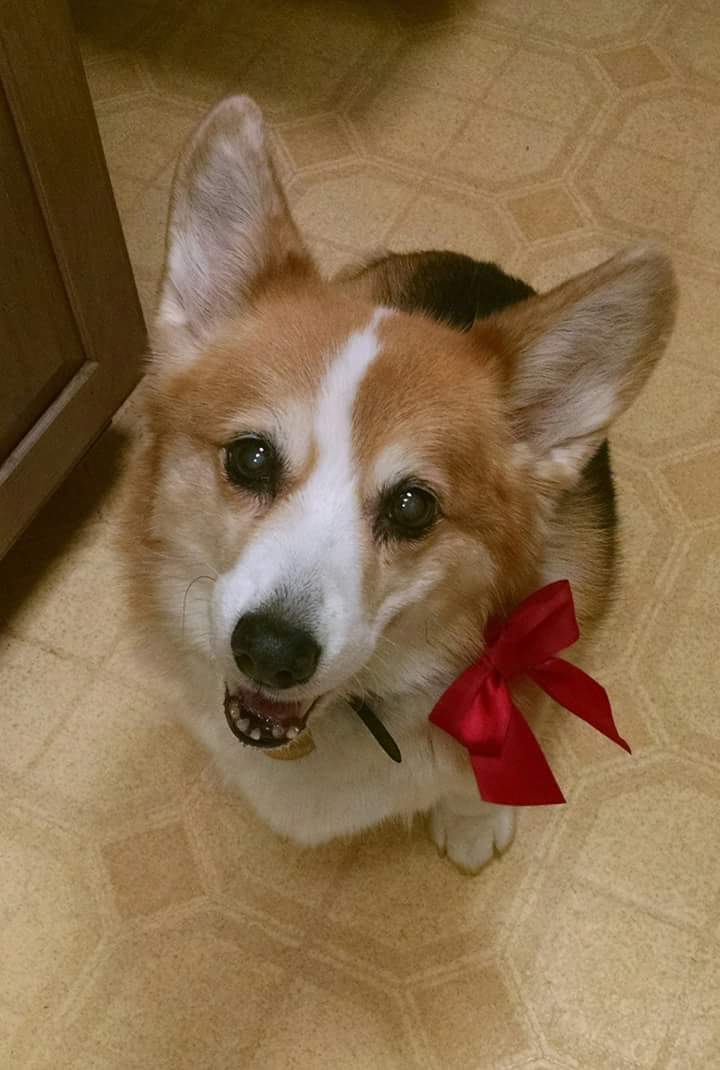 Bonsai
XOXO
Our sweet little Bonsai passed away last year, a few months short of 15. Although she was blind, deaf, and struggled to stand on her back legs during the last few years, she was a happy, positive force for my family and so many others until the very end! We will remember her unending love and moral support, and, of course, how cute she looked with a Christmas bow! — Katrina B.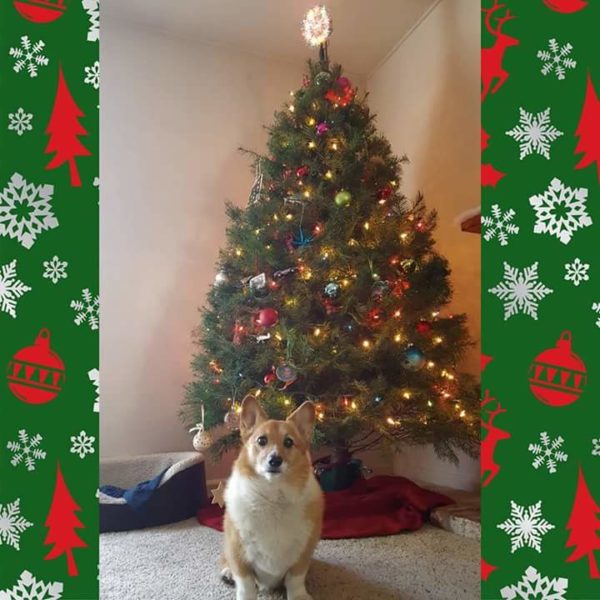 Lola
This is my Lola, 10 years young. She was diagnosed with lymphoma cancer on November 11th, but she isn't letting it slow her down! She started light chemo shortly after her diagnosis and has responded well so far. She has been getting extra spoiled with walks, treats and snuggles. Lola is a huge part of our family and we're doing all we can to enjoy the time we have left with her. — Laura N.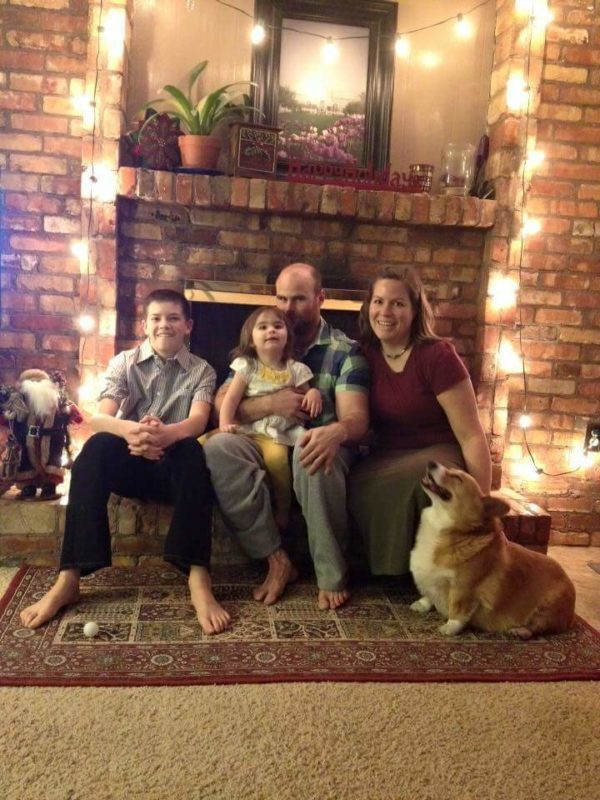 Brennan & his people!
This little family of mine makes me so happy. Our Corgi boy Brennan turns 11 this month. He's showing his age and I can't imagine life without him, but for now he's happy chasing chickens every morning and being by my side all day. — Kristina D.V.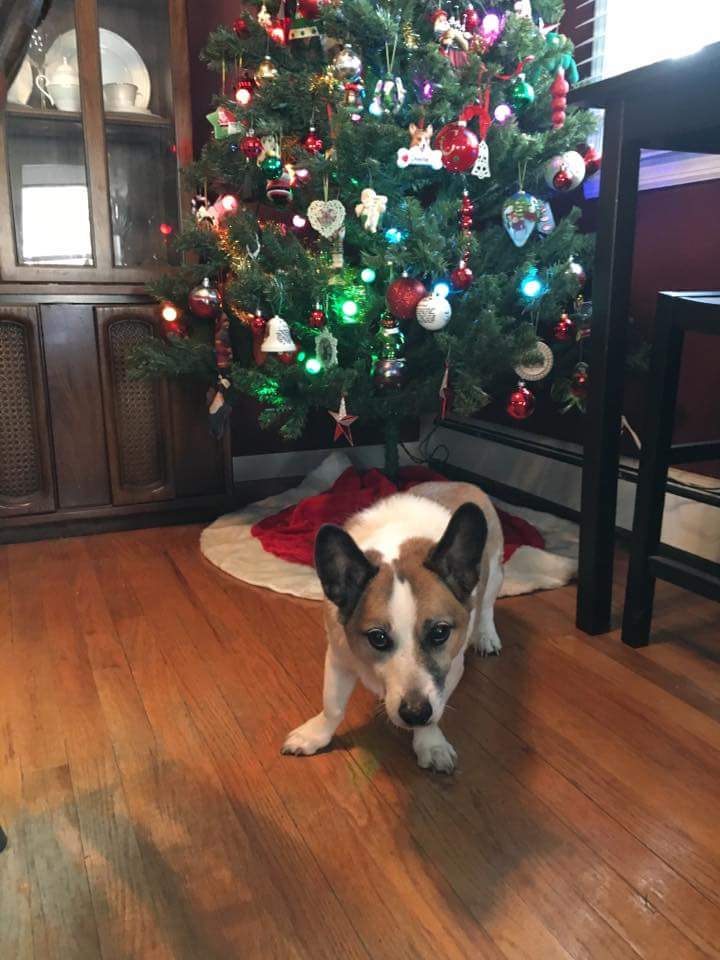 Charlie
This is Charlie, a Corgi/Jack Russell mix almost 15 years old. He has arthritis and is losing his hearing, but otherwise going strong in his golden years! — Cathy C.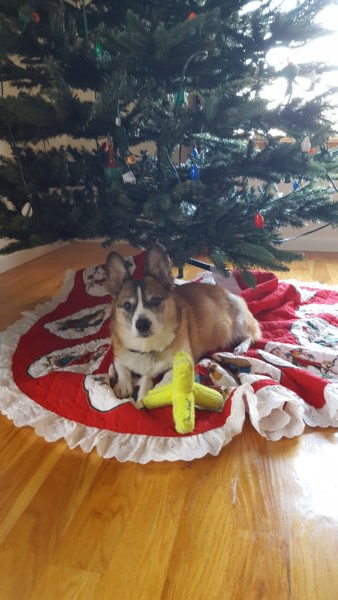 Rocky
This is Rocky shortly before he crossed the Rainbow Bridge last week. He was 11.  I miss him terribly. Christmas won't be the same without him. — Elizabeth M.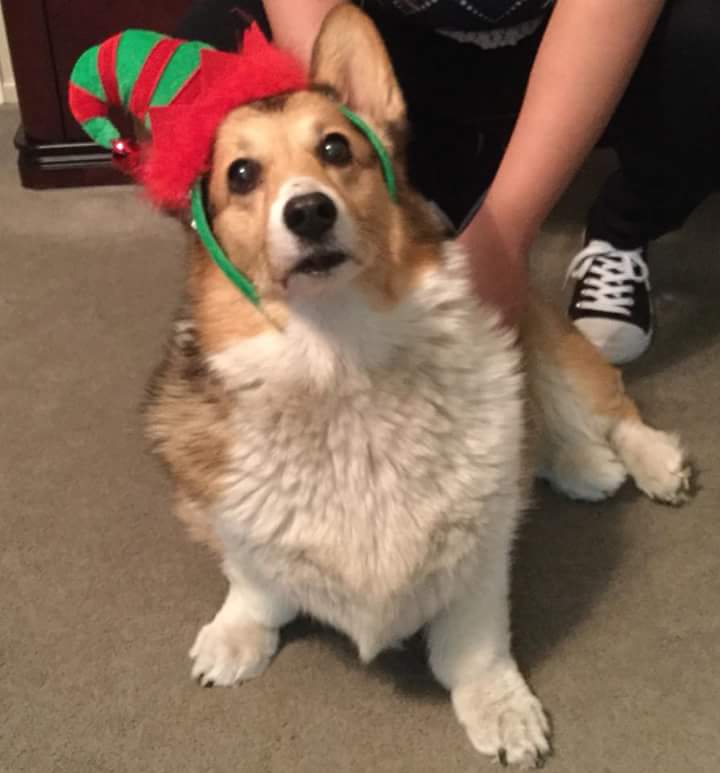 Maggie
This is Maggie she. At 12, she has arthritis but she doesn't let that slow her down. She will chase squirrels … at least 15 feet. 😂 — Carol P.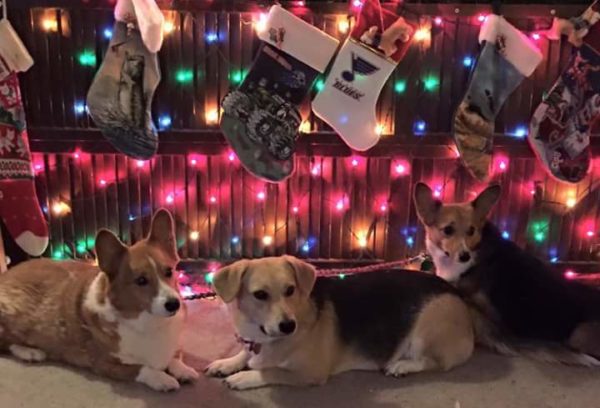 Colby
XOXO
This is our sweet "angel" Colby (on the left) with his wanna-be Corgi sister Bella and Corgi sister Dorie. Both miss him bunches. We lost our guy December 30, 2016 after a two year struggle with a mass on his spleen, as well as an enlarged heart. We miss him beyond belief! — Tammy R.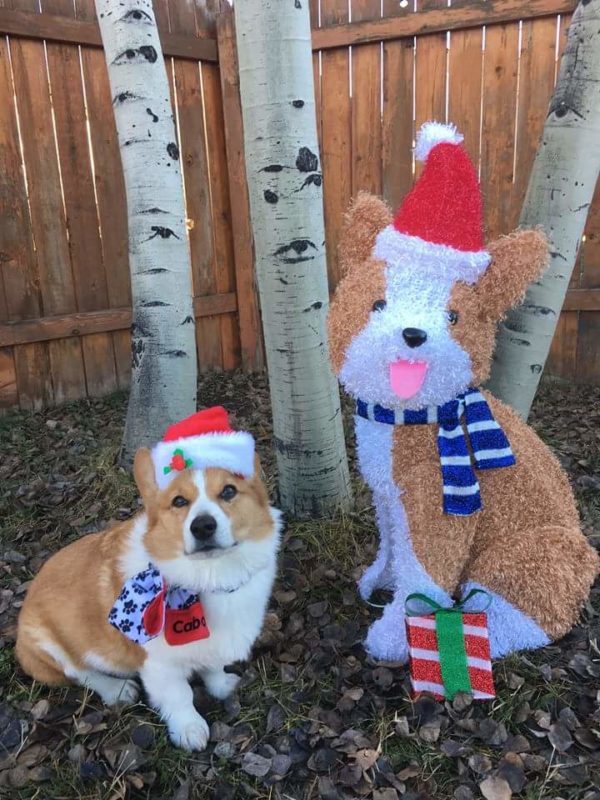 Cabo Wabo
This is Cabo Wabo. He just turned 12 and we weren't sure he was even going to make it! He's in kidney failure and wasn't eating back in October. His vet offered us a chance to get him feeling better so we took it. After 2.5 days in the hospital getting IV fluids to flush his kidneys and Metronidazole to settle his tummy, he's like the Cabo I used to know, eating and being his playful self again (knock on wood). He's also struggling with neurological issues with his back … knuckling, rolling and crossing his hind legs when he walks, but it doesn't seem to bother him. Cabo gets acupuncture every couple of weeks and that seems to make him feel better. — Tiffany F.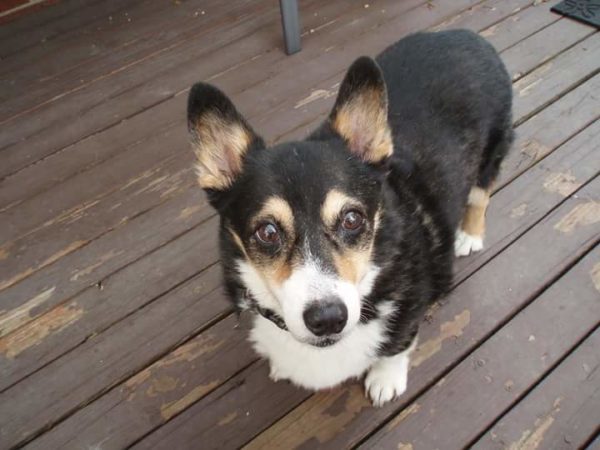 Murphy Charles
XOXO
Here is my dearly beloved Murphy Charles, who passed away last year. He's not in fancy clothes or a seasonal background, but this is the lovely picture he gave me on his 15th and last birthday. Murphy would never, hardly ever, look straight on at the camera. I think he knew he was getting sick so looked right at me for his last birthday picture. He passed away a week before his 16th birthday. He was my soul dog and the best, BEST doggie ever. — Sandra L.
Gracie Petunia
This is Gracie Petunia. She is 12 years old but still thinks she's a puppy and so does everybody else that doesn't know her! She has always been in good health but has experienced some stomach sensitivities as well as some arthritis. Other than that, she is a happy, healthy senior! — Amanda M.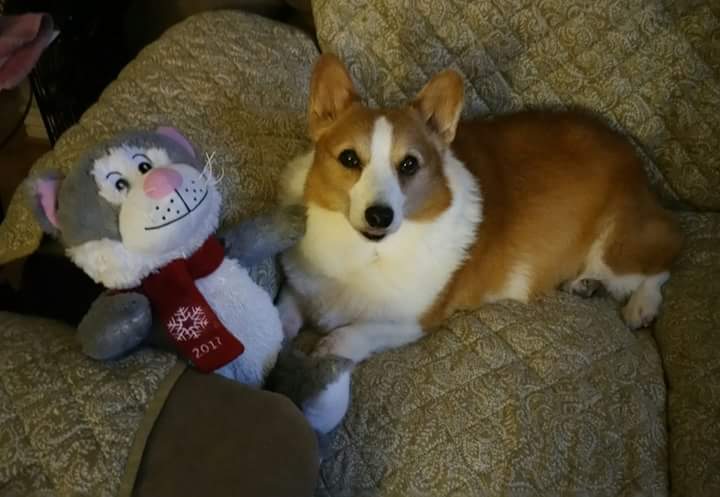 Lexxi
Eleven years young and still cute as cupcakes.
Jazz
This is Jazz. He is 11 years old and loves camping and playing in the bay at the off-leash park. He has problems with pancreatitis and arthritis in his back. He has diabetes and gets shots twice a day. We have almost lost him twice to diabetic lows. We also almost lost Jazz two years ago when we went on vacation and left him at highly recommended boarders. It was hot, he got diarrhea and he wasn't taken care of correctly. Through all of this he lives life to the fullest! Jazz has a four year old sister he roughhouses with every day and he loves his morning cuddles in bed. — Joni S.W.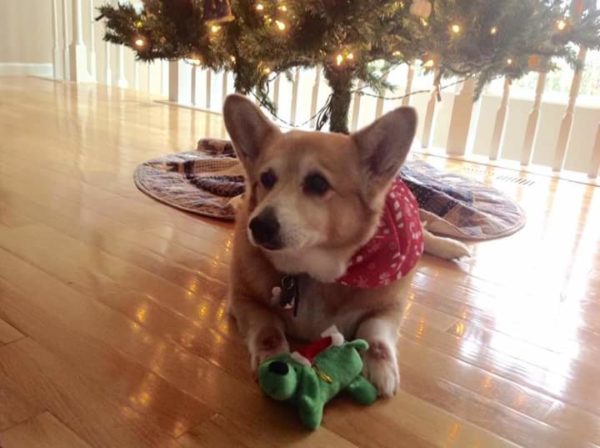 Chloe
XOXO
Our little Chloe girl crossed the Rainbow Bridge two weeks ago at the age of 16. We miss her so much. — Mary M.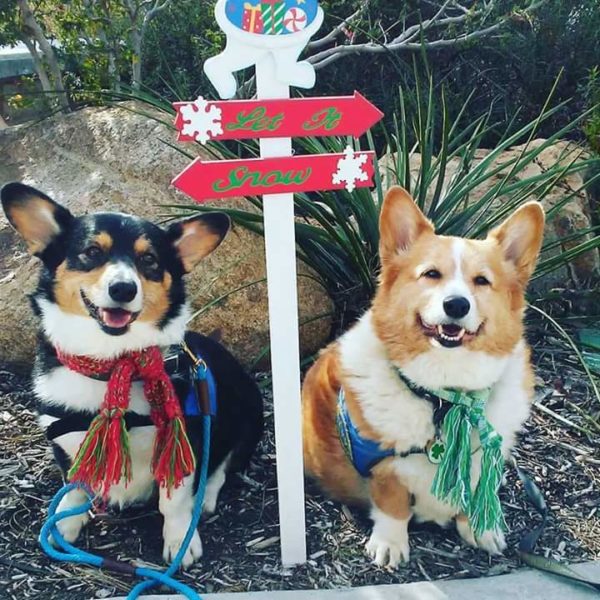 Sidney
Sidney (age 10) is the redhead on the right. He's still working as a therapy dog, bringing comfort and joy to students at our local colleges and universities. He had to retire from competing in Rally-O since his arthritis got too bad. Sid can't walk for long distances, so he gets to ride in a stroller for longer trips. Over the past couple of years I've watched his sweet face go from vibrant red to mostly white. It's bittersweet. Also pictured is Copper (age 8), barely a senior and very athletic! He's also a therapy dog. — Geri S.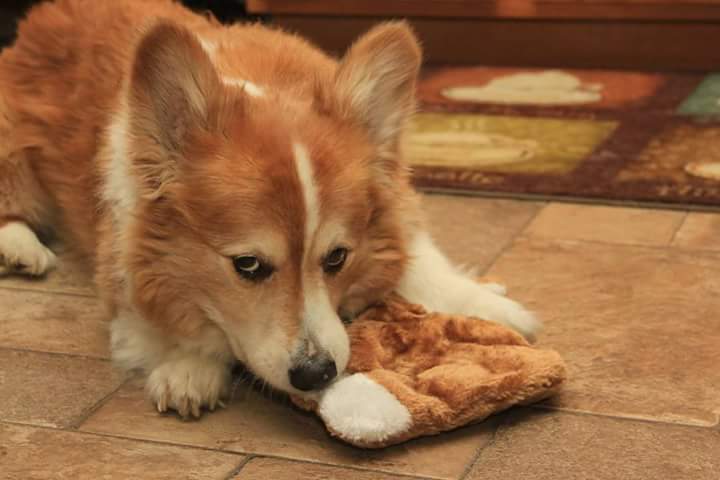 Aero
At 12.5, this cutie sure enjoyed that plush "chewable" Corgi!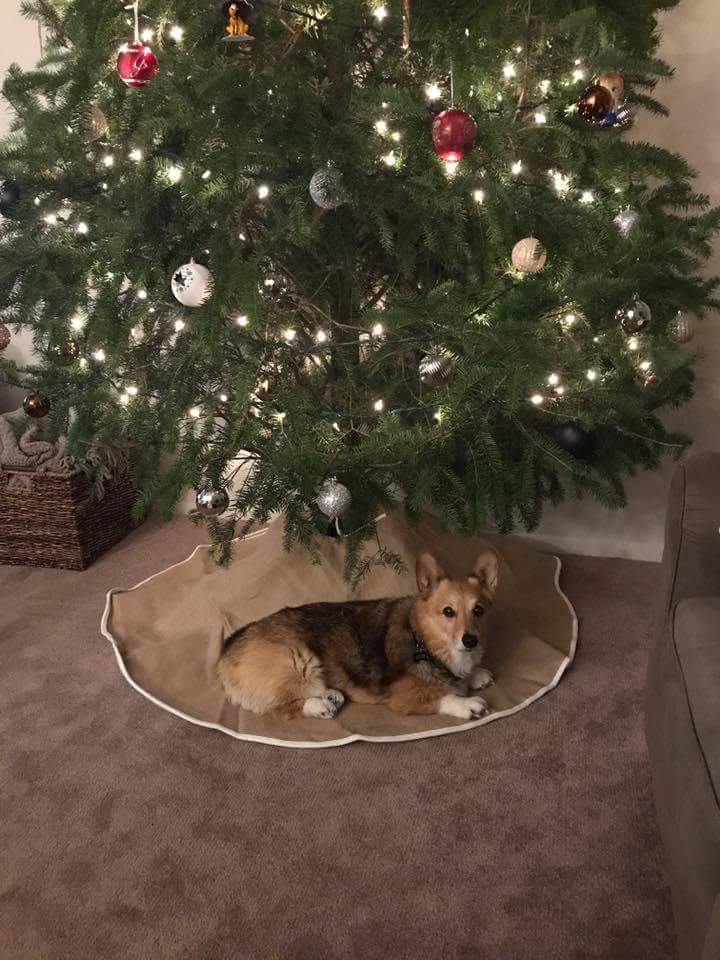 Dixie
This is Dixie, she is 10 1/2. I rescued her at age 6 and so far no major health issues 🙂 She has been slowing down lately though and most likely has some arthritis and a little cloudiness in her eyes. — Jenna D.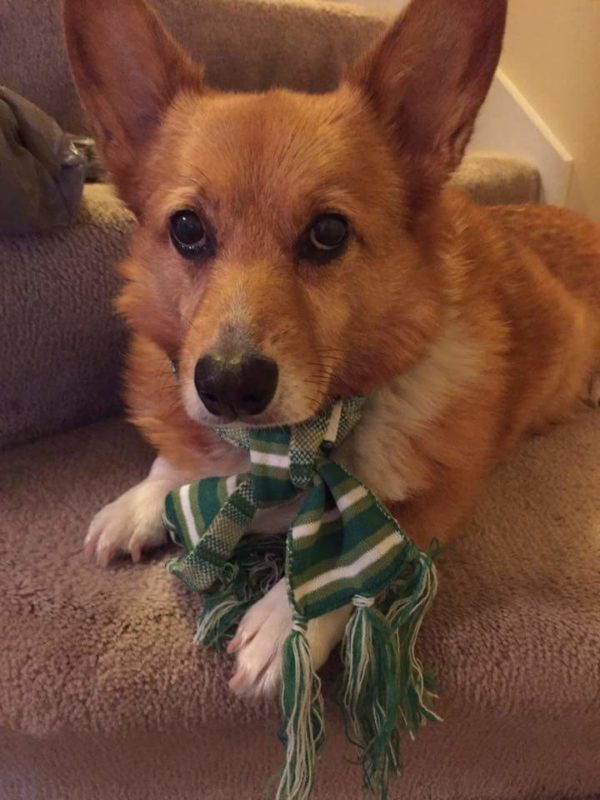 Cashius
At 12, Cashius is moving a little slower, and his hips seem to bother him. Other than that, he is absolutely wonderful! His diet is under control. He loves being outside with nature. He is super friendly, loves our neighbor dogs and will run with them along the fence line. He is very intuitive to our family, understands everything I say to him. We love Cashius so much. — Karen D.L.
If you liked this post, check out these!