Friends, feast your eyes on this adorableness. This little character is currently in foster care through Corgi Connection of Kansas, and is accepting applications for the family lucky enough to take her into their home, hearth and heart of hearts.
Gorgeous Miss Maxi is a 3-year old corgi with some significant health issues that are currently manageable. Because of her MRI-confirmed hydrocephalus (fluid on the brain), she is a special needs dog.
Hydrocephalus can make learning new things difficult for this sweet one. Each new change in environment brings about a "refresher" course in house training and sometimes other behaviors. It may seem like she's a very stubborn little girl, when in fact hers is a learning disability. Over-the-counter Prilosec has shown some success in keep the fluid levels in the brain from increasing in other hydrocephalic dogs. Should Miss Maxi's condition worsen, it is likely she would show neurological issues such as seizures, circling or spinning. The next step for medication would be steroids.
Dogs with hydrocephalus don't have as long a life expectancy, and right now Maxi has probably exceeded that of many dogs with the same condition. While she is not having neurological issues such as seizures or circling, her future is really unknown. What's certain is that she still has a lot of love to give.
Because of the hydrocephalus, Miss Maxi is mostly blind. As the good folks at Corgi Connection have learned, her brain does not process what she sees. Her eyes are "structurally sound," but the message isn't getting through. Because of her vision issues she can be snappy if startled and that can relay to other dogs.
For this reason she would do best as an only dog and absolutely no young children. Maxi does love people overall, however, and should not be denied a happy social life.
Her front legs are horribly crooked (medical term is incongruity or elbow dysplasia) but she does get around well. She doesn't navigate stairs very well due to vision and her legs. It is important that Maxi's weight be kept in check to no more than 30 pounds, to help alleviate the pressure on those legs. Corgi Connection has her on Galliprant — a long-term pain reliever — and a joint supplement.
Her current foster home takes her on several shorter walks a day, which Miss Maxi just loves!
Surgery is not a recommended treatment due to the potential for complications which could result in the amputation of the leg(s). Again, her condition is manageable, but Corgi Connection does not advise she go to a home with very many stairs.
Maxi is an affectionate little girl who wants to be around someone. She can be ornery, occasionally chewing things she shouldn't, but is getting more and more comfortable in her current home, showing a few signs of play and even a slight zoomie!
She is unfortunately the product of some less than ideal breeding, purchased by a family who did not even realize her difficulties after having her for nearly 3 years. Miss Maxi needs an experienced owner as she does try to be the boss and she would probably do best as an only pet, although she doesn't seem to mind cats that don't pay any attention to her. 
This girl is spayed, current on vaccinations, has been treated with heartworm, flea/tick preventative and is microchipped.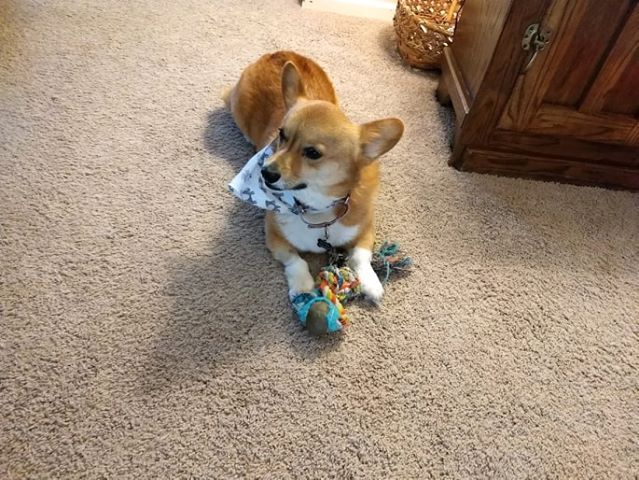 Her adoption fee is $200. If you can give this special girl a special home, please submit an application for consideration. For whoever adopts her, Corgi Connection would be there to help along the way.
Not ready to adopt? Consider a contribution to Corgi Connection! They have been rescuing and helping to rehabilitate and re-home Corgis for ten years now. Maxi's MRI and vet bill alone were a few thousand dollars. Simply put, this work doesn't happen without the help of many supportive and caring people. People like YOU! 
Visit their site today and click the yellow Donate button. Tell 'em The Daily Corgi sent you.
Corgi On joyfully, my friends!
Laurie
If you liked this post, check out these!