Hello, my name is Abby. I'm a Corgi mix, and I dare you to resist me! Very few people can. My new Mom Angela couldn't, so long story short, here I am at my forever home.
Just arrived a few days ago!
You know how mothers are. They love to talk about their kids. Besides, who am I to say I'm NOT the most interesting thing going on here?
And away we go …

"Well, to tell our story with Abby I have to start a little before her. I never grew up with dogs around, but when our oldest (turning 13 a week from today) was a baby, we wanted him to know the love of a dog. We ended up with two dogs, one of whom was a corgi puppy. I was nervous, as "small yappy dogs" were all the same to me.
Athena, however, soon became MY dog, and when she was stolen just a few months later, I was heartbroken. Not long after that, my husband and I found ourselves disabled veterans with two young boys, starting over in the civilian world. It's been almost ten years since we've owned a dog, and a year ago we bought a house with an eye toward being able to have space in our hearts and finances for a dog again.
We had been watching for almost exactly 14 months for the right dog for us. All we knew is that we wanted another corgi, even a mix. Sunday evening, my boys and I had dinner with my mother. Her next door neighbor came over to say hello, and the topic of a corgi for my family came up. I said (and I quote): "I will wait however long it takes for the right corgi to come into our lives. We're patient, and we've been waiting this long."
Sunday night, I saw "Sadie" on the Klamath (Oregon) Animal Shelter facebook page. I could see that there was interest, and when I saw her beautiful eyes and smile, I was hooked. I knew I had to at least see if she would be a fit, so I sent an e-mail calling in Nope to work. Monday morning, I was at the shelter (knowingly) two hours before it opened at 10. By 8:30, a man who had gone in and out twice with a key approached my truck.
"Are you here for the shelter?"
"Yep. I know it won't open until 10."
"Are you here for something specific?"
"I want the corgi/husky mix."
He wandered back inside, and a few minutes later brought me a clipboard with an application attached. I filled it out, and on his next break he fetched it from me. I waited. And waited. And publicly spazzed on Facebook. And thought I might cry in joy first, and then terror as the What-ifs settled in. What if she was a horrible dog? What if she was not what we wanted? What if they let someone in before me and they took her??? (My anxious brain is fantastically creative).
Let's blow this popsicle stand already!
At a minute to ten, a nice lady opened the door and beckoned me inside. I jumped out of my truck (as fast as a physically broken person can jump) and followed her to the room, where she left me and went to grab the girl who is now Abby.
I didn't need more than about five seconds to fall in love. Abby is so sweet and loving. She loves kisses, and she loves snuggles. Her beautiful husky eyes set off her perfect corgi smile, and it's virtually impossible not to smile or even giggle at her huge, dense husky tail sticking out of her fluffy corgi butt. Our girl is super quiet and doesn't bark much, unless there's a deer threatening her back yard. I haven't heard it yet, but I've been told that when I leave for work there's a perfect husky howl that comes out, and it's so sad and adorable that it's hard not to laugh.
Abby knows perfectly well how to get almost anything she wants from anyone, and after only a few days she has come to amaze us with her intelligence and intuition. Abby's real name is Aingil Beaga.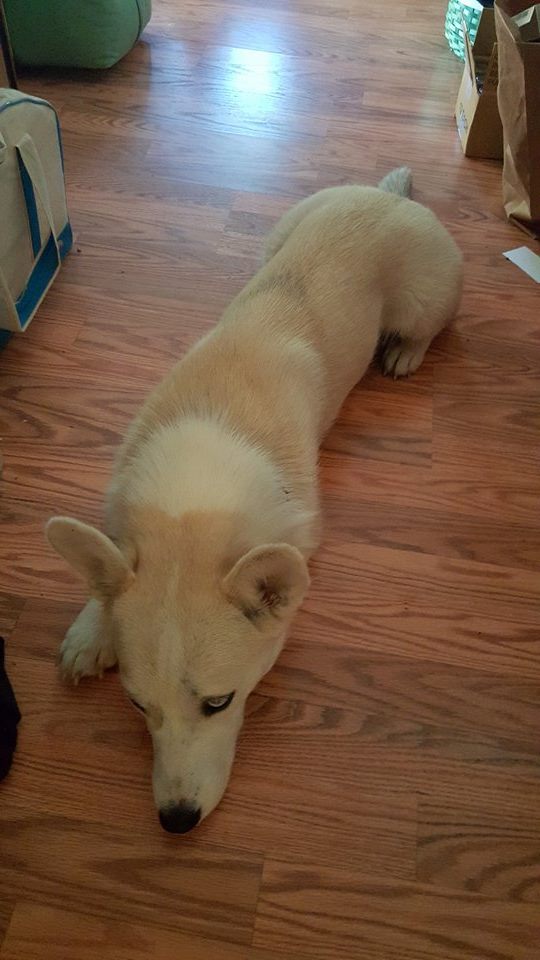 The Corgi flop. Excellent form, yes?
In Gaelic, that means "Little Angel" because she truly is our little angel. She has brought so much light into our home, and has already proven her worth in her ability to notice anxiety levels increasing (both my husband and I have PTSD) and counteract them with snuggles and antics.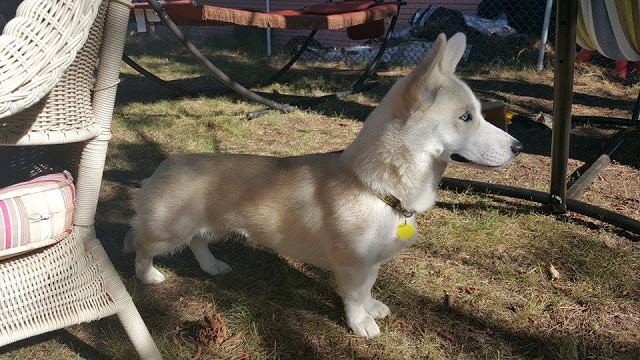 Mom. There's a deer. Mooooooom! Can we eat it?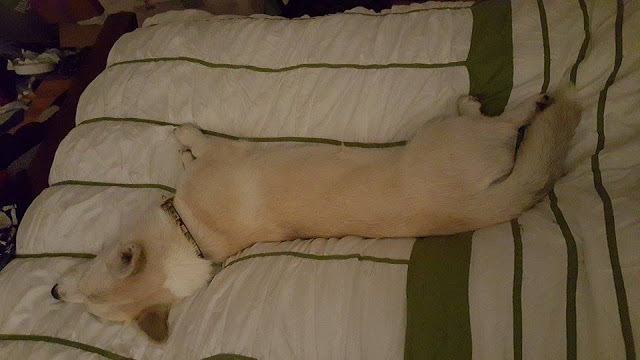 When Mom goes to bed, Abby goes to bed. And takes up Dad's side. Naturally.
No one wants to try to say her real name, though, so AB leads to Abby. And in this insufferably geeky household, any Abby should be Abby Normal, so that's the name she's going by. She seems to like it, which is good, because it's hers for the rest of her hopefully long life.
One last notable thing about her: According to the shelter, Abby's birthday is April 21, 2014. We closed on our new house with the fenced backyard and the space for a dog on April 24, 2014.
A dog can change everything. Abby is that dog for my family. Welcome home, Abby Normal. We love you."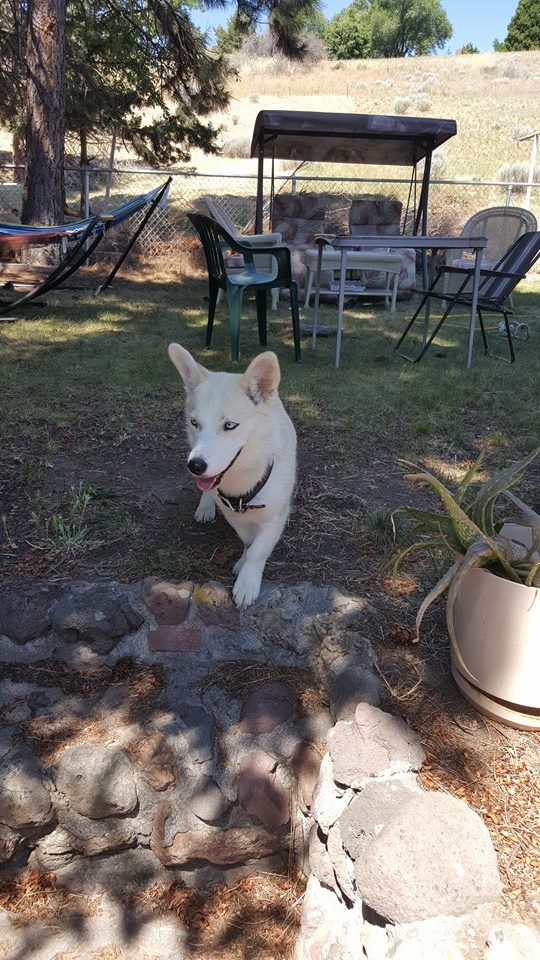 If you liked this post, check out these!