Bright eyed four year-old Birdie gives the family backyard regular goings over for those dirty rotten rodents (squirrels). Thought she looks innocent, Birdie is The Enforcer. When the tailed rats get ideas about the bird feeders, Birdie shuts them down with a quick spring and menacing leap in their general direction. The middle child of the Salvi Corgi Mafia, she joined the fold from a local rescue group.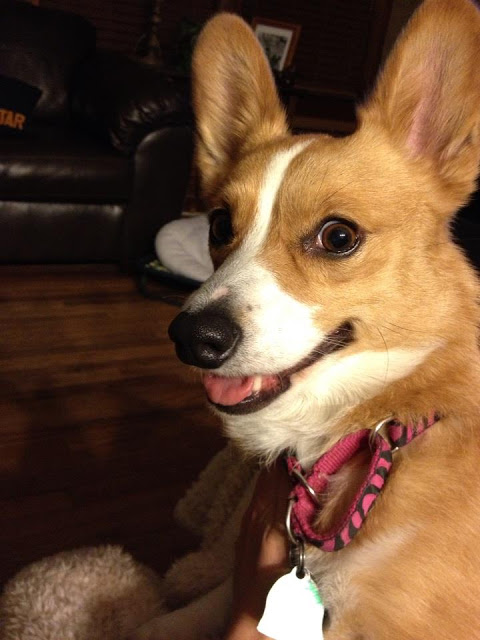 "Exercising her is easy" reports pack Mom Nicole. "We just stand in the backyard, point and yell "squirrel!" and she takes off in the direction of our fingers after the fake squirrels." Practice drills. She enjoys playing ball with sister Molly."
"Birdie was recently diagnosed with
IVDD (inter-vertebral disk disease)
, and was paralyzed for a short time following a minor disc rupture. She is completely back to normal now, but can't use stairs or get on the furniture. She makes due and lives life to the fullest each day. Birdie reminds me everyday to live life and to not take anything for granted."
Queen Bee Birdie has a love affair with my husband's back scratcher" Nicole says. "She will come beg us to get it out and scratch her."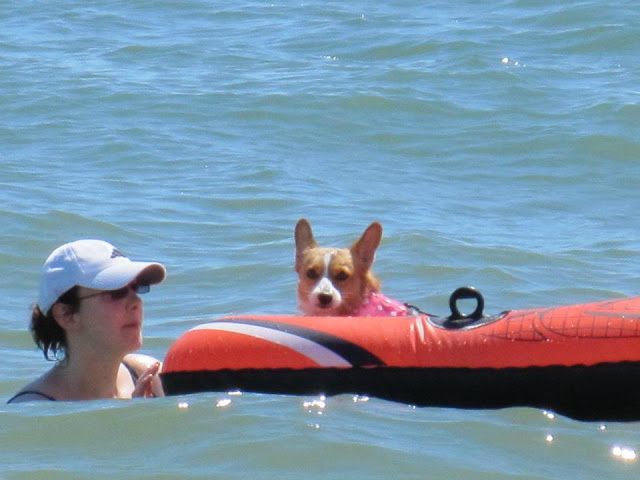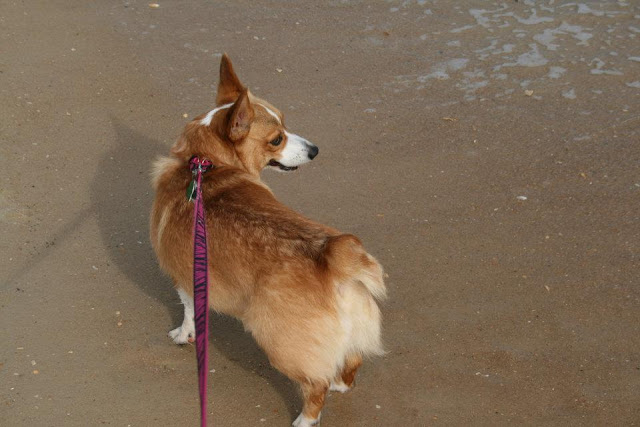 "Birdie is the ultimate traveling buddy, having seen Illinois, Missouri, Kentucky, Tennessee, Alabama, Georgia, and Florida, where she chases crabs and seagulls, swims and raft rides the surf. Birdie has a ball visiting her Grandmama and Grandpapa Cater in Tennessee. When she's not watching deer and chasing chipmunks on their five acres, she spends large portions of her days sunbathing on the screened patio."
At eight, Connor is the oldest child and godfather of the Salvi Corgi Mafia. "Connor has been with me through everything. He and his brother Vinny (our first Corgi, a tri-colored Pembroke who passed away three years ago) were my rock during the two years my husband and I lived in separate states while we established our careers. I could not have made it through that difficult time without Connor's companionship."
"During the two years my husband and I were apart, Connor and I started volunteering with a hospice group. We soon discovered that Connor makes an excellent companion therapy dog. The patients love him. It's touching to see how they respond. Some of them smile for the first time in months when they see him, others cry while they hold him and he licks their face. They could care less about me, which is fine. The patients often ask to spend their time with Connor sitting in their bed, watching TV out in the nursing home living room with all the other residents, or on a bench with him out in the garden. He has received cards from family members of patients who bonded with Connor before they passed, and in those letters they express how Connor made a difference in their loved ones' lives."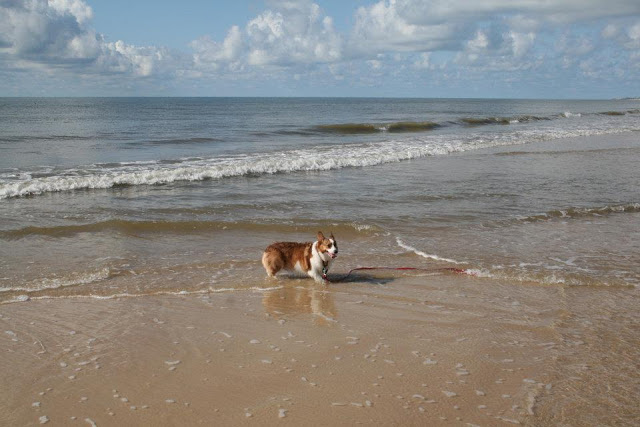 "He's gone everywhere Birdie has, and to Michigan and Wisconsin with me on work trips. More than anywhere he loves to go to Florida. Connor has a little inflatable raft he climbs into for a ride while my husband or I drag him out into the ocean, where he floats and watches folks on the beach."
"His favorite pastime is chasing the laser out in the backyard, He tries so hard to eat that little red light but just fails miserably every time! Connor has a howling habit. He will bust out a hearty howl anywhere, at anytime. He just puts his head up and goes to town. Connor is an amazing dog, and the cornerstone of our family."
Talk to the hand …
"At two, Molly Mae is the diva of the Salvi Corgi Mafia. The family found her at the local humane society after her owner surrendered her to a vet. Molly has been a great addition to the group."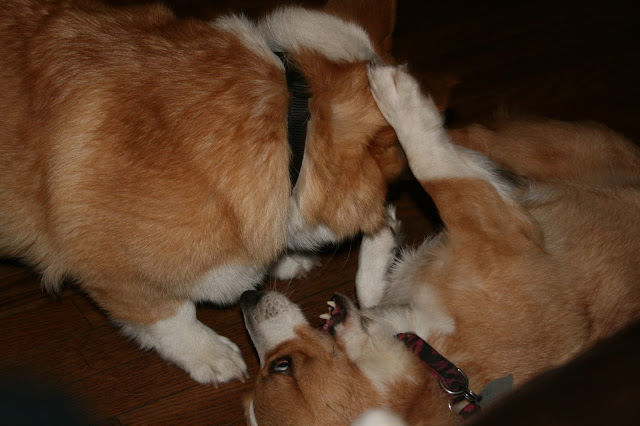 "She and Birdie wrestle every evening for about forty five minutes. They often end up rolling over my feet as I'm watching TV."
"Molly likes to spend her time doing the zoomies in the back yard. She loves to chase or to be chased and is often visible from the living room covering ground at full speed."
"Her habit of taking a running leap on to unsuspecting laps sometimes elicits screams from surprised guests. She starts running down the hall as fast as she can and takes aim as she rounds the corner. It's no surprise to my husband and me to hear a terrified scream from a guest as Molly launches herself in an attempt to get some extra cuddle time."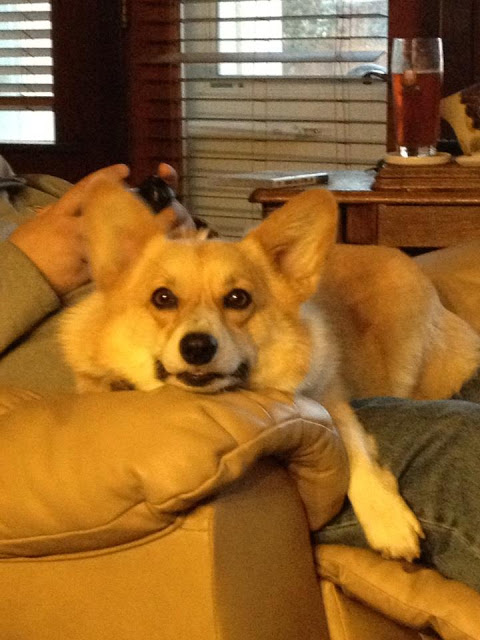 "She is the biggest cuddlebug and I'm so happy we got her for just that reason. Molly would sit in my lap or my husband's all day if allowed to, and often sleeps with me when my husband is on a night shift duty."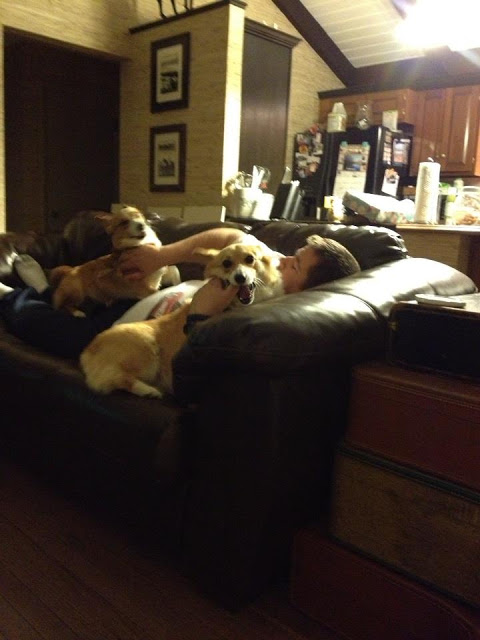 "When he's home with them, my husband sings songs to the dogs. The songs are always about them and their crazy antics. He usually sings them to the tune of a song that's been popular at some point in time."
This is just a short list of my husband's greatest hits for the dogs:
Lyric: "My name is Connor, I live on the second floor! I like chasing kitties, they don't come round here no more." He sings this to the tune of My Name is Luka by Suzanne Vega.
Lyric: "Molly thank you for the sunshine you gave to me. Molly thank you for the love you brought my way. You gave me your ball and all. And then I throw it to the wall. Molly one so true, I love you." This one he sings to the tune of Sonny by Bobby Hebb.
Lyric: "Birdie you go play. Chase those squirrels away. Don't let them get away", to the tune of Let The Music Play by Shannon.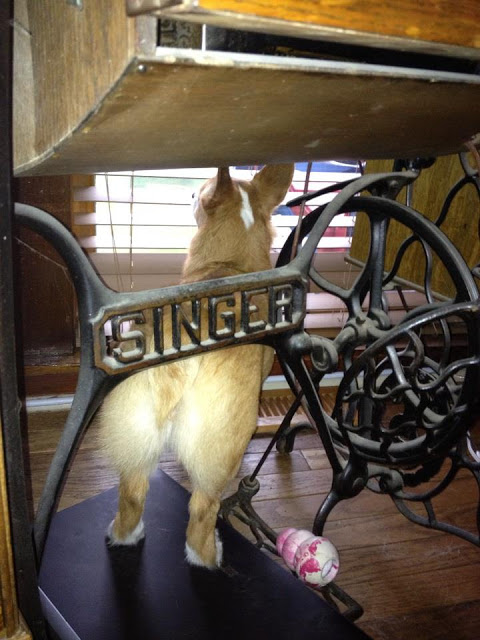 The End
This post first appeared on The Daily Corgi on 5/20/2013.
If you liked this post, check out these!