Our guest blogger today is Dana Rampi-Cruz, Public Relations Coordinator for Southern California's Queen's Best Stumpy Dog Rescue.
I'm deeply pleased to make room for this fantastic foster-based rescue group here on The Daily Corgi. Queen's Best Stumpy Dog Rescue focuses on special needs corgis and corgi mixes, from both shelters and situations where the dogs need re-homing. Theirs is vital work, a beacon of hope for many low-riders with few (if any) options.
Take it away, Dana!


Zoe, poster child for Queen's Best Stumpy Dog Rescue
The Pembroke Welsh Corgi: stubby legs, bat ears, fairy saddles, nubs; these are all things we associate with this popular breed. In recent years the Corgi has continued to gain popularity world-wide. While many will recognize the breed from their frequent presence at the feet of a certain Royal Person, others are quick to cite anime references, memes, Instagram profiles, Facebook pages, blogs, and YouTube. Listed among the 50 most popular dog breeds to own, many people have welcomed corgis into their hearts and homes. Also, one cannot forget the Cardigan Corgi, known for their long tails and slightly larger stature, but still full of Corgi personality. Built for herding large livestock, these feisty little-ones have no problem behaving as if they were much larger dogs. Corgis (of both breeds) are known for their quirky personalities, their loyal and protective nature, their intelligence, and their affection.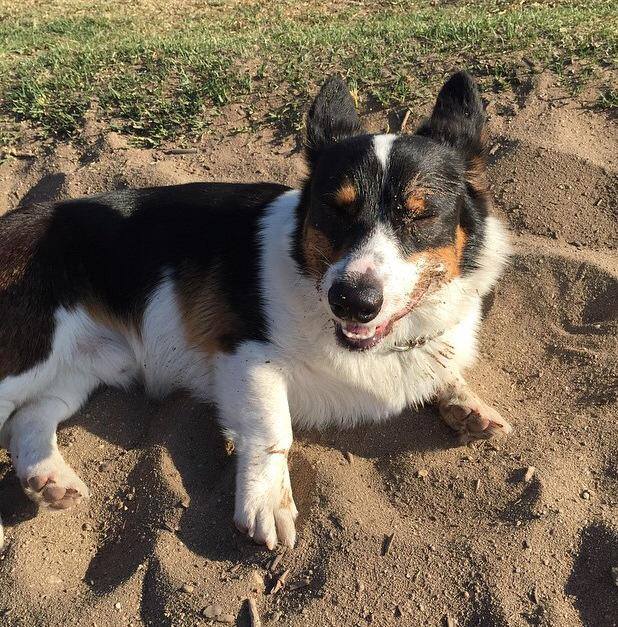 Phil came to the rescue with a bad UTI and Hyperesthesia. He has since been successfully adopted.
As is often true, there are two sides to every coin. While the Corgi has a long list of attractive qualities, there are also behaviors that the general public have little understanding of. The Corgi is an independent dog with a certain determination and stubbornness that most corgi owners can attest to; excessive barking, aggression, destructive behavior, predisposition to degenerative myelopathy and hip dysplasia are common issues for which owners are often unprepared. Corgis require early and consistent training, socialization, daily exercise, and mentally stimulating playtime. When it comes to corgi ownership, training is a necessity. Obedience training is something often neglected which ultimately contributes to negative behaviors that can lead to abandonment. Sadly, impulse purchasing of corgis over the years has led to many ending up in poor living conditions, shelters, or being abandoned. In many cases, behavior that has not been attended to for the entirety of the dog's life will be so deeply engrained that strenuous rehabilitation is required. This type of rehabilitation is not something that shelters are prepared for and many corgi and corgi-mixed breeds do not make it out alive. Senior corgis often find their way to shelters due to health issues that people are unwilling to manage. There is no hope for these dogs without the aid of rescue work, and that is where Queen's Best Stumpy Dog Rescue steps in, "saving low-riders one bark at a time".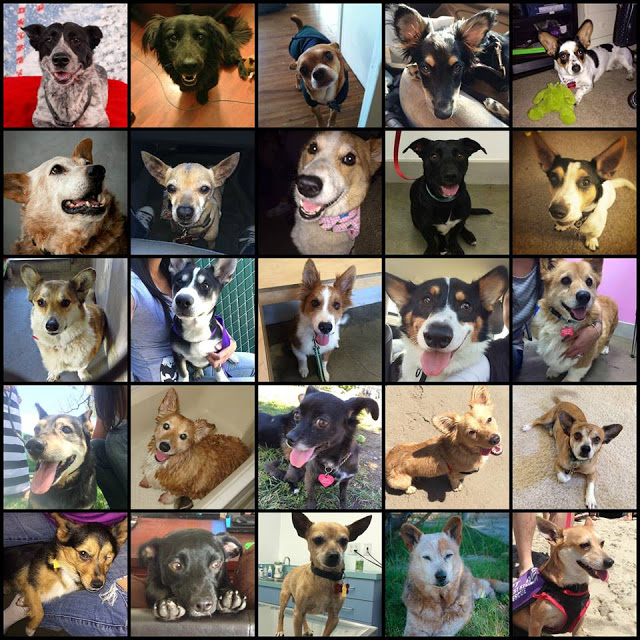 Some beautiful faces of QBSDR alumni and a few of their adoptables!
Founded in September of 2013 by Susan Luong, Queen's Best Stumpy Dog Rescue has worked tirelessly to save special needs corgis and corgi-mixed breeds from Southern California's high kill shelters and from people who need to rehome their dog due to unfortunate circumstances. QBSDR nurses their dogs back to good health and finds them their "furever" home. The rescue is comprised solely of volunteers. These volunteers are dedicated to helping fight the overpopulation of animals by educating the public about the importance of spaying and neutering, adoption, and the need for fosters and rescue volunteers. Over the past two years, QBSDR has rescued 38 dogs, and successfully rehomed over 32. In recent months, QBSDR has officially become classified as a 501c3 California Nonprofit Organization.
Lilypad was missing her eye, some toes, and teeth when QBSDR got her from the shelter. She was successfully adopted and continues to make appearances at events.
QBSDR is still a "baby", as Susan puts it. Building a rescue from the ground up has not been an easy task, but she continues to set the bar high when it comes to saving the lives of dogs in need:
"I was volunteering and fostered for the Burbank shelter, and during those years, adopted my first two corgis Oliver and Eva. I saw more frequently how misunderstood corgis were and eventually started independently rescuing, fostering, and rehoming them. I wanted to make a bigger impact by starting an organization that would rescue and rehabilitate in an ethical manner. I also wanted to find likeminded individuals who understood the importance of not cutting corners in care, "matching" dogs with families, and not just flipping them to the quickest adopter. My ultimate goal became, and still is, to save the most overlooked ones, the special needs babies, the harder to adopt ones while educating the community on the benefits of spaying/neutering and that animals are a lifetime commitment. I acknowledge that there will always be way more dogs than humanly possible to save, so we put our all into the ones we have; no hoarding, no mass transports. I refuse to allow anything like that to happen"
Susan's passion for animal welfare stretches far beyond her rescue. Dog walking, pet sitting, caring for her own pets, and helping others with theirs are just some of her pastimes. Susan has three corgis: Oliver, Wally, and Eva (known as "The Trio"). She also has a rabbit, and almost always has a foster dog in her care.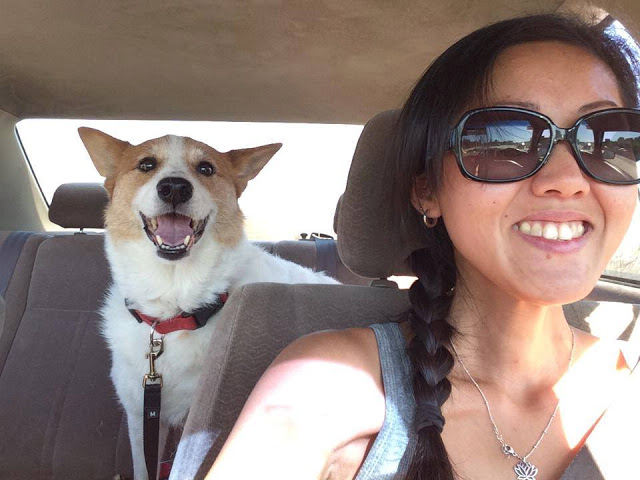 Susan Luong and Zoe. Matching smiles!
Susan has been known to take on some of the most challenging rescues ranging from difficult behavior cases to heart breaking health conditions. On October 15th, 2013, Zoe the Cattle Dog became a part of the QBSDR family. Zoe had been previously adopted from the Baldwin Park Animal Shelter in 2004, but when a tumor developed on her leg she was sent back. Nine years after her initial adoption, Zoe found herself abandoned at Baldwin Park Animal Shelter for the second time. Luckily for Zoe, QBSDR rescued her and immediately began to give her the veterinary care she deserved.
Sadly, test results proved that Zoe's tumor was cancerous and after much consideration, Susan and her husband Mike adopted Zoe, giving her a life full of love and adventures with her new pack of corgis and other foster dogs. Zoe was kept comfortable, while slowly knocking out the bucket list created for her by Susan. Zoe enjoyed car rides to the park and hikes on trails; anywhere she could go, including partaking in various rescue endeavors with her family. According to Susan, "she was a special girl that showed what being a fighter and was all about! She was inspirational, all while showing her gratitude, appreciation, and zest for life. She was grateful for being saved and she let it be known every day". Sadly, on April 21, 2014, Zoe lost her battle with cancer and crossed the rainbow bridge. Susan still mourns the loss of Zoe, but proudly dedicates her memory to being the official poster child of QBSDR. Zoe paved the way for special needs dogs of all breeds to find a new life in the arms of the rescue.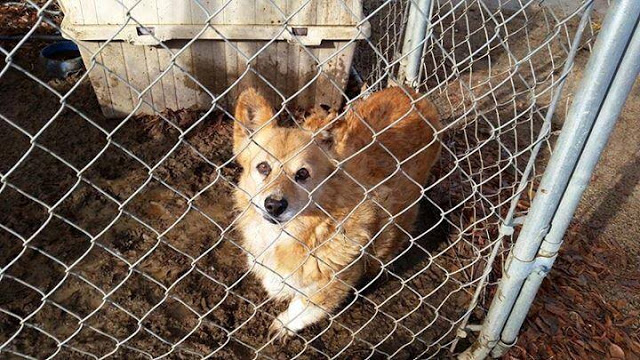 Lucky was found neglected, living in an outdoor dog run full of mud. This senior boy would not have made it without QBSDR, who fully vetted him and place him in a loving foster home.
Today, QBSDR is comprised of hard-working volunteers who all share the same passion for saving the lives of animals in need. Currently the rescue is seeking qualified individuals who want to make a difference and there is always an ongoing search for foster families in the greater Los Angeles region. All QBSDR dogs are placed in loving foster homes, where they are given exceptional care until their forever home is found. Without the dedication of foster families, QBSDR would not be able to fulfill their mission. In addition to fostering there are many ways individuals can become involved with QBSDR: following them on social media, going to events, donating money directly to veterinary care and supplies, or adopting a QBSDR dog.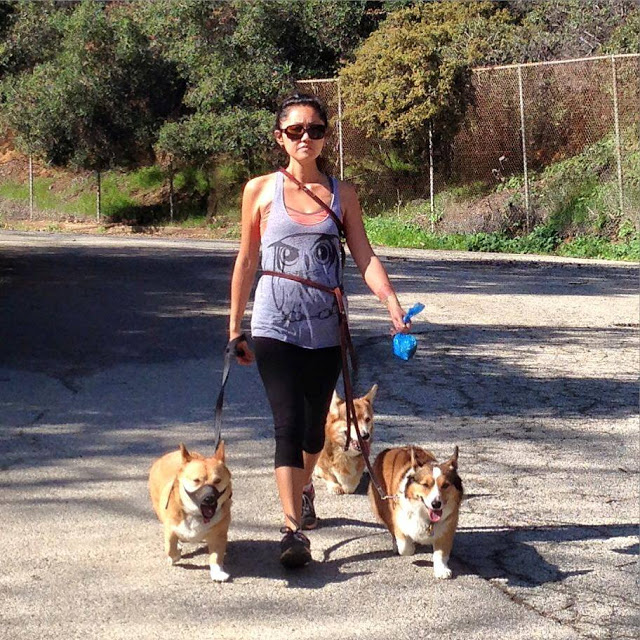 Susan Luong walks a training pack: Corey (muzzled), Oliver and Wally.
Queen's Best Stumpy Dog Rescue is not just about rescuing corgis, but also embracing the spirit of the Corgi and applying it to their practice. A small number of people working together to make a big impact on the lives of lonely, sad, misunderstood, sick, and abandoned dogs. Like the Corgi, QBSDR's voice is loud and full of purpose, guiding those dogs in need into loving arms. "Saving low-riders one bark at a time" is not for the faint of heart, yet this pack holds onto the reward of finding the "furever" home and the feeling of overwhelming joy that comes with making a tremendous difference in even just one dog's life.
A CALL TO ACTION ~ A Message from the Author
Thank you for taking the time to read this blog today. Hopefully you now have a greater understanding of what it is that we do at Queen's Best Stumpy Dog Rescue. There are so many ways that people can help. Here are just a few:
If you would like to help make a change in a low-riders life, consider fostering for QBSDR. Fostering saves lives! Now, more than ever, do we need like-minded individuals to be a part of our amazing team. If you are serious about becoming a foster for QBSDR, please go directly to http://goo.gl/ivSaZX (case sensitive). Once submitted, your application will be reviewed by one of QBSDR's qualified staff members. When the application has been approved, you will be contacted to further discuss you role as a foster parent and review any questions you might have. If the application and interview are a success then a home-check will be scheduled. Once a home-check has been passed, the application process is complete and fostering may begin!
Make a difference by taking an active stance against purchasing from breeders. QBSDR can work with you directly to match the perfect low-rider to your lifestyle.If you find yourself in need of rehoming your corgi, please reach out to QBSDR for assistance before considering other options.
We are always accepting monetary donations, which may be sent in the form of a check or money order to:
Queen's Best Stumpy Dog Rescue
4821 Lankershim Blvd. F372
North Hollywood, Ca 91601
If you would like to donate through PayPal:
Please send to donations@qbsdr.org
And most importantly, spread the word! Tell your friends and family about the work we do at QBSDR. Come and say hi on our Facebook and Instagram, where we keep everyone updated on all of our exciting projects. We also encourage you to come and meet us in person at SoCal Corgi Beach Day, hosted by Dan and Kelly Mclemore, at Rosie's Dog Beach in Long Beach on July 25th. We will be there with hundreds of other low-riders, as well as Purina Beyond Dog Food who is donating 1 lb of dog food for every photo or video tagged with #CorgiBeachDay and @beyondpetfood on the day of the event. We look forward to seeing you there!
Some of the wonderful fosters and volunteers who came to SoCal Corgi Beach Day in April, 2015.
Together we can all make a difference one bark at a time!
Left: Susan Luong, Right: Dana Rampi-Cruz
About the Author: Dana Rampi-Cruz joined the QBSDR team in March of 2014 and is currently the Public Relations Coordinator for the rescue. She resides in Orange, California with her two corgis (Link and Luna), her cat, rabbit, fish, and horse. Also known as Dana Doolittle, she enjoys spending her spare-time tending to her personal zoo, as well as horseback riding, singing, acting, and playing ice hockey. Dana looks forward to what the future holds for QBSDR and continues to be enriched by the experience of working for a rescue.
Dana may be reached at drampicruz@qbsdr.org
Susan may be reached at sluong@qbsdr.org
Facebook: facebook.com/QBSDR
Instagram: @QueensBestStumpyDogRescue
Twitter: @QBSDR
For more information about QBSDR or its dogs, contact info@qbsdr.org.