Today on The Daily Corgi, Judi H. shares the story of her Charlie.
I was first introduced to this charming breed by my brother, who had a Corgi named Honey. Her personality and smarts won me over, and I knew I had to have a Corgi of my own.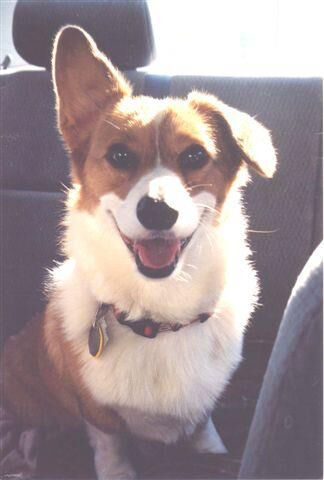 I started looking on-line at adoption sites and rescue groups, and through them I met a woman named Carol who did rescue. We chatted several times, and one day she told me she was going to the shelter in Millersburg, Ohio to pick up a stray that had been found outside an Amish puppy mill. When she sent me photos of him, I knew it was the same scared-looking little guy with a floppy ear I had spotted on one of the adoption sites. "What a coincidence", I thought.
I drove over to Dayton to meet him, and when she set Charlie on my lap, he gave me some soft gentle kisses on my hands, and that was that. He was going home with me. Getting Charlie was one of the best decisions I ever made.
What can I say about a dog that other owners haven't already said? He's family, he's part of my daily routine, he makes it worth coming home, I would do anything for him.
He's laid-back and low-keyed except when it comes to cars, which he loves to try to chase. (I keep a firm grip on the leash at all times!) If he sees someone while we're out walking, he insists on going up to say hi.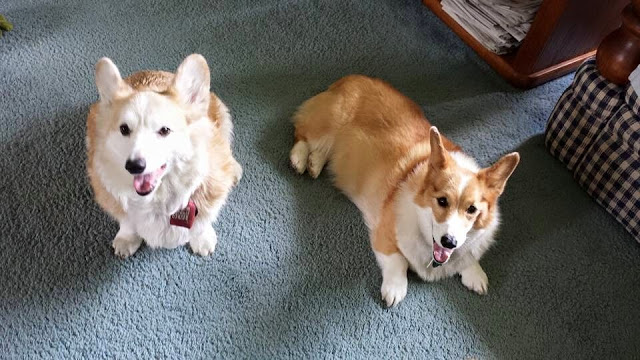 When we go to the farmer's market with our friends Dona, Paul and their Corgi Lady, it's like walking with rock stars. We're constantly stopped as people oooh and aaah over them. Charlie allows people to fawn over him but is just as happy to let Lady lap up the limelight.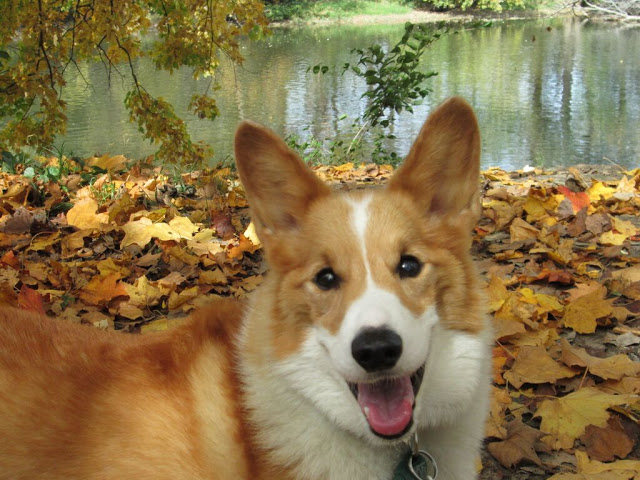 He loves rolling around in the snow and digging in any dirt he can get his paws on. His hatred for the vacuum cleaner is everlasting, and he really gets wound up when I tell him I'm going to take a shower. He runs like a madman from one end of the bathroom to the other, barking at the top of his lungs as I chase him. He probably just doesn't like seeing his pack leader disappear behind a curtain, but I like to think that he's just trying to get me to stay home, even for a few seconds longer, by engaging me in a bit of playtime. He follows me everywhere, and likes to keep me in his sight.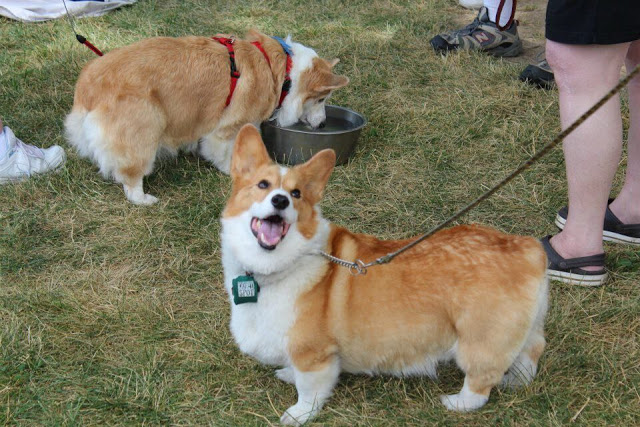 If we're at a Corgi meet-up, his bark is the loudest by far. He loves to herd, which has landed him in some trouble with bigger dogs at the bark park, as they don't care to have some 28 pound low-rider telling them what to do. But he also has "quiet woof", which he uses with me when he wants to play. And over the past year or so he's started to sing a little bit; that wolf howl arrrooo. He gets a good vibrato on it and has quite the range of notes! As a musician, this tickles me to no end.
Charlie loves getting homemade liver cornbread treats from Grandma (he's a gentle treat-taker, taking treats calmly and slowly) and rough-housing with Uncle Ryan. Going for a car ride sends him into a tizzy, even though most of the time it ends up being a trip to the vet for the monthly mani-pedi. The exasperated vet techs once referred to trimming his nails as having a death-roll rodeo, as he managed to get out of his seatbelt harness in the process. One time he bucked so hard during an annual vaccination that the vet stuck himself in the thumb with the needle.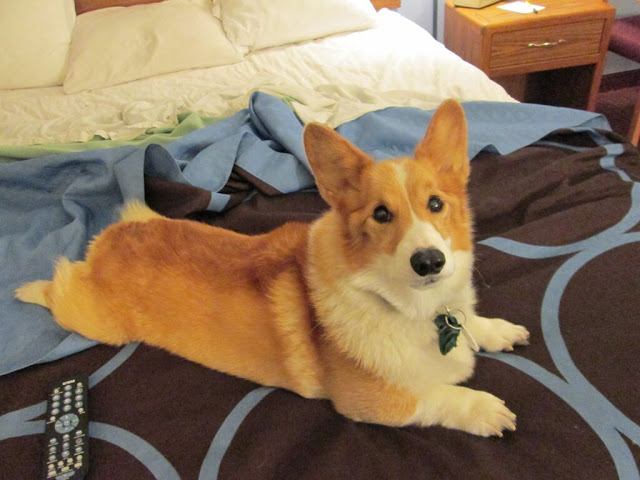 He knows a few tricks- he can sit up, turn around (I call it the sit-n-spin because he twirls around on his tush!), give you his paw, and he'll lie down on command too. Charlie picked that up in just a few short minutes — he's such a quick learner!And that endearing, jaunty, floppy ear of his? Several years ago it just stood up on its own. I miss the lopsidedness of a droopy ear, but he is still so photogenic!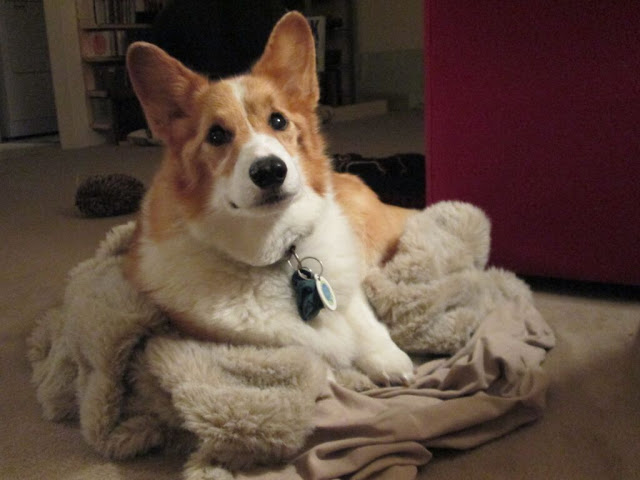 When I give him a bath, the first thing he does when he breaks free is race to the bed to roll all over it, frantically barking as if to say "paybacks!" Then he streaks up and down the hallway in serious frap mode. He's never been a fan of water.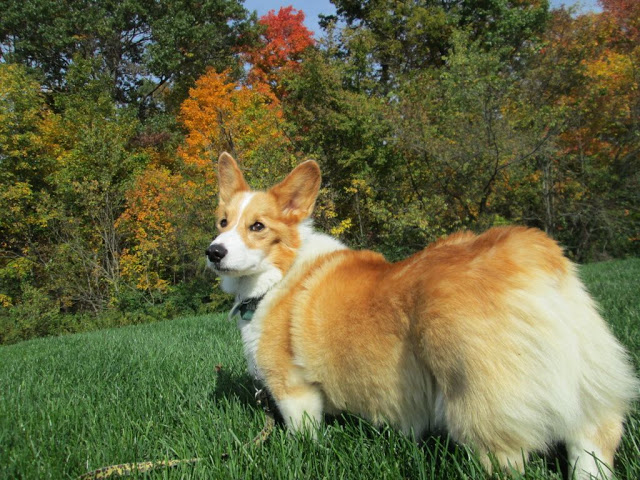 Long ago I started writing down little things about him that I loved because I didn't want to ever forget them. Now the time has come when I might not get to add much more to that notebook. He's been feeling under the weather lately, and his colonoscopy on Wednesday revealed a tumor that the vet feels might be cancerous. I'm praying that it's benign but I also have to prepare for the worst news a pet parent can hear. End of life comes too soon for these loving creatures, doesn't it?
I've had Charlie for over 10 years, and I know we have more days together behind us than ahead of us. I adore and love him with all my heart and I don't know what I'm going to do without him. I know this is part of pet ownership, and that other pet parents have gone through it before me. I had another Corgi named Willow who died a few months after my dad in 2012, and the grief was immense. But somehow, maybe because Charlie's been with me for so long, this seems like it will be worse. And inevitable. So I hang on to my friends and my faith and move forward. I'm praying for good biopsy results, that perhaps this is just a fluke and he will recover and be with me for a few more years.
My life has changed because of him; I'll never forget him. And I wanted to share with all of you how wonderful he is, and how much he is loved.
Charlie rescued me.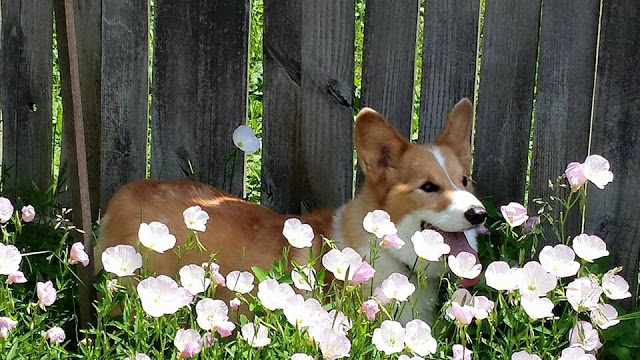 If you liked this post, check out these!