Author Melanie Sue Bowles lives with five Corgis (one of them a mix) at her
Proud Spirit Horse Sanctuary in Georgia
. Compared with the ten other, mellower resident rescue dogs, the Corgis constitute a "maniacal hairy conga line." They bark. They are bossy, and the other animals often have no idea what all their fuss is about.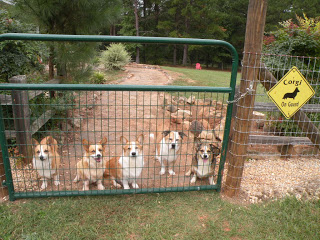 Left to right: Kirby, Tucker, Cricket, Gunny and Penny
Now let that be a lesson to you, if you've never had a Corgi. They don't take much lying down (except food, sleep and belly rubs).
If you're looking for laid back and mellow, go for a hound from the
pound. Need less excitement about squirrels, moving blades of grass, suspicious shadows and nocturnal noises? Not for you the Corgi, whose sworn duty it is to run The Universe. At the very least your corner of it.
On the other hand, they also happen to be capable of loving you with a fierce and uncommon joy!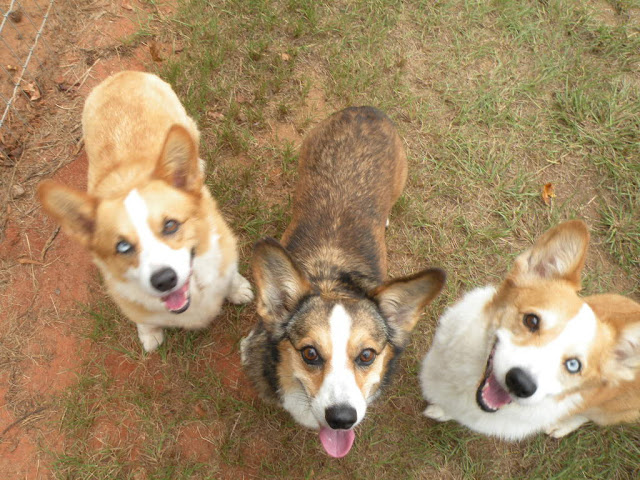 Tucker, Penny and Cricket
Melanie and her husband Jim never set out to acquire five Corgis. A
felicitous series of unlikely events conspired to bring the low
riders into their lives, one by one. The "Corgi Curse" they call it, jokingly. "A mystery and a joy."
When Melanie and Jim walk the ranch as a family, the Corgis routinely frolic and romp together twenty or thirty feet ahead of the group. Making sure things are safe for the others, no doubt. The others can follow in their paw prints … they don't mind.
Tucker escaped euthanization as a puppy because his blue eye was deemed unacceptable. His health and sight were fine, that blue hue wasn't. Tucker made his way into the family when Melanie found him at the vet's, where he'd been brought in to be put down.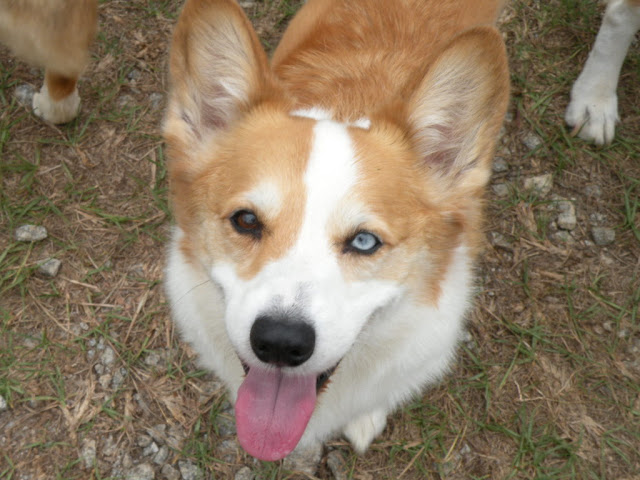 Cricket (also sporting a sky blue eye) was abandoned in exasperation by his previous owners before he found his forever home at Proud Spirit. His behavioral issues vanished once he found himself in the company of a bunch of well-adjusted dogs.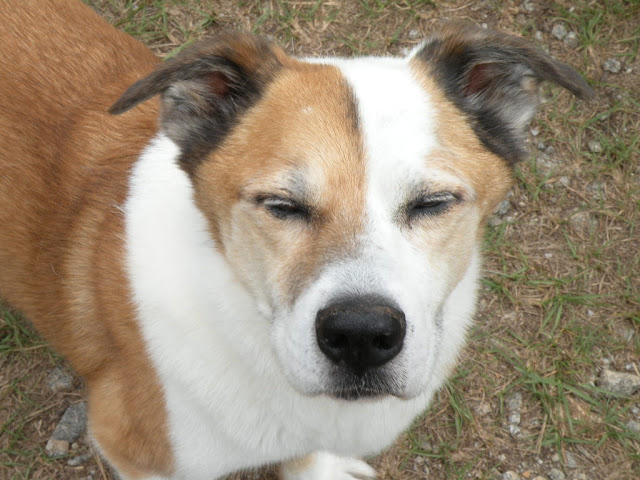 Corgi mix Gunner (Gunny-Bear) proved himself especially adept at charming the public during Melanie's book signing sessions. Today he's the resident old man of the canine pack. "We adopted him from a shelter fifteen years ago, when he was just about a year old" says Melanie. "He's still my baby!"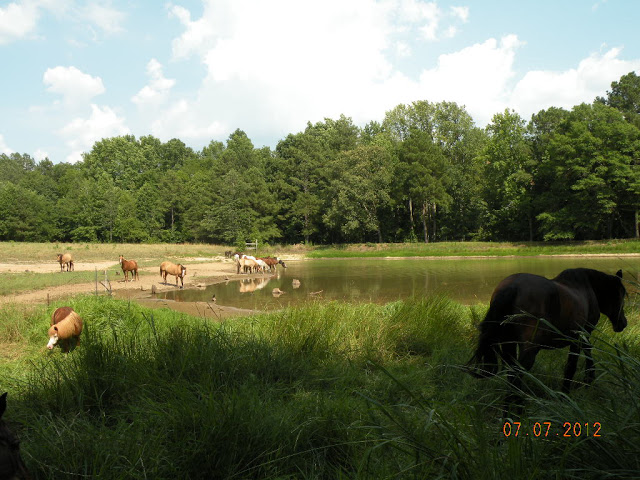 Ponds, pastures, woods and each other … a horse's perfect life!
There's so much more to know about these exuberant Corgis, the rest of the dogs, the dozens of horses, the two pigs and the cat who grace this special place! You can read their stories in Melanie's Proud Spirit books, which chronicle the good life she and Jim have made for dozens and dozens of animals with nowhere else to go. They are engrossing, excellent reads, and sales of every book benefit the tireless work they do on behalf of the lives they saved and sustain with their love and labor. Visit Melanie's site to
learn more and purchase these books
, all of which make great gifts for yourself or a fellow animal enthusiast.
Mimi and Nina, the Pigs of Proud Spirit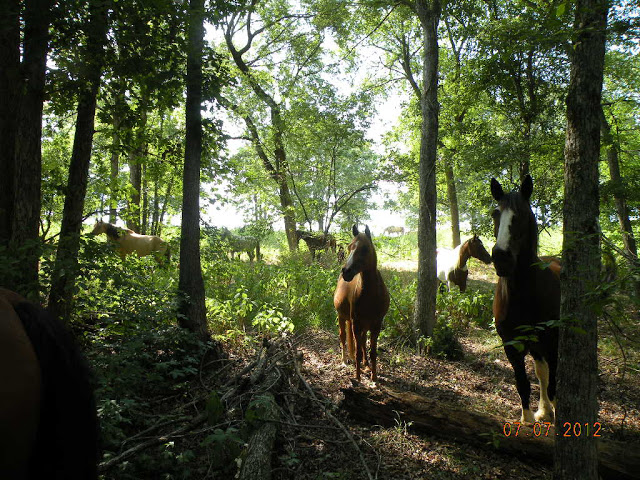 Exploring the woods … life is interesting!
You may have seen my other Daily Corgi posts about the Proud Spirit books and Sanctuary. I don't remember precisely when I adopted this group of animals and people into my heart, but they're firmly lodged there now! The day I finally get down there to set my eyes on this place will be a very good day indeed. Can you say Daily Corgi field trip?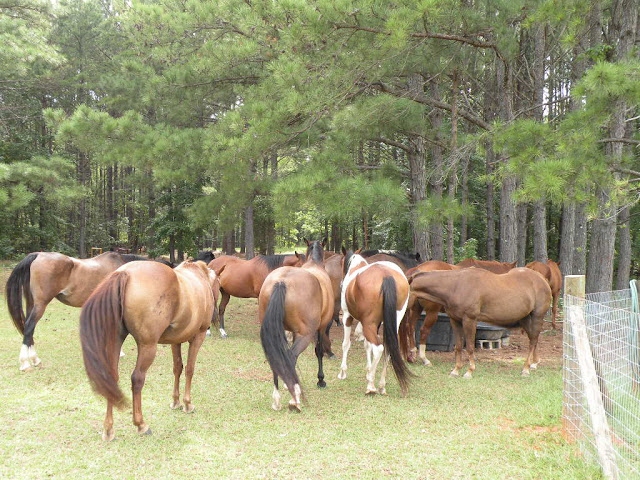 This post first appeared on The Daily Corgi in October of 2012. The Proud Spirit Sanctuary is still doing their work, and needs our support more than ever. Please consider a recurring donation — even a small one — to this haven for beautiful "second chance" animals, at the sanctuary site HERE. Your heart will thank you, and so will some very grateful, hard-working people.


Laurie