Yo!
Teddy of Maryland here, at your service. What's shakin'?
First thing you need to know about me is I have a serious FOMO issue. FOMO? That's Fear of Missing Out. As in no matter what's going, where or when, I have to be there.
It cannot happen without me.
Whatever "it" is.
If I'm not there when something happens, you must ask yourself: "DID IT REALLY HAPPEN?" Friends, I don't have the time to joke about this. Just follow my instructions, bada bing, bada boom, and you'll save us all a lot of noise.
That picture up there of me supervising a crowd? I was at the Washington Nationals game with my Mom, who is a true blue Nationals fan. Rumor has it some games happen without me there. I choose not to believe it.
It smells funny, and not funny ha-ha.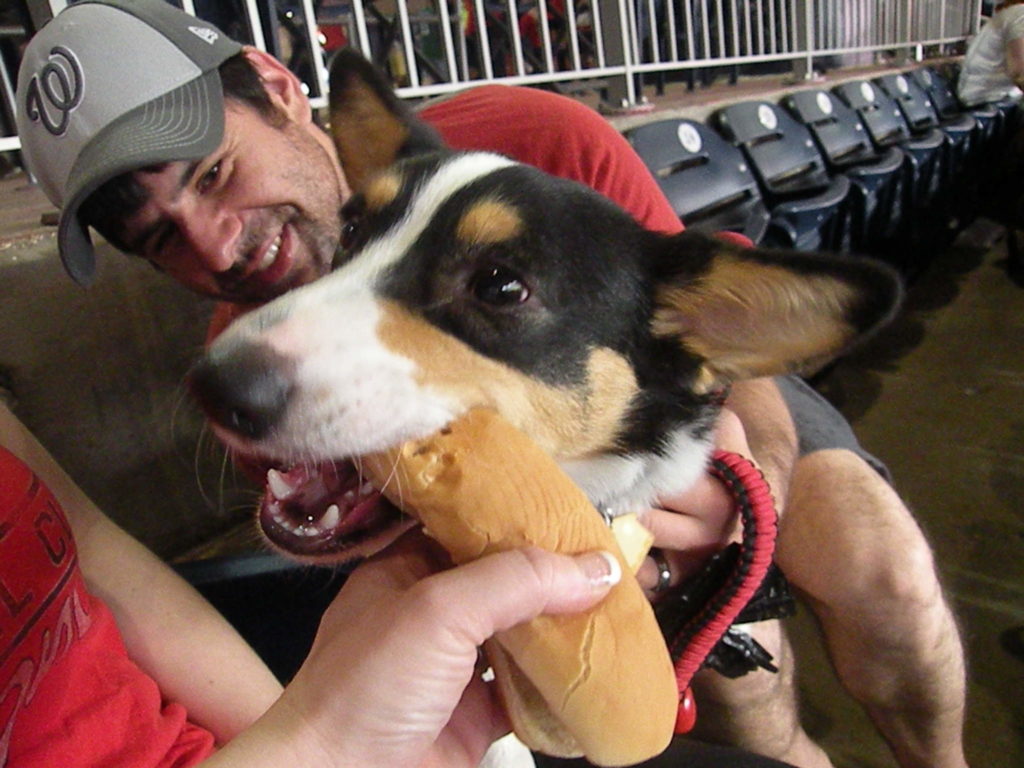 At the Pups at the Park Day, I got a hotdog for lunch. Did I chew my food before I swallowed? You bet. Sure did! It happened, it was just too fast for the human eye to catch. If my Dad suggests anything else, he's tellin' tales.
My people, they like to talk about me. They talked a LOT about me for this guest appearance on The Daily Corgi, but as always, barking can only improve a situation. So I bark.
I bark, therefore I am.
I am barky. I am here and I am barky. (You're welcome).
Somebody dropped a bagel on the sidewalk just outside of my fence once. As my FOMO (Fear of Missing Out) extends to edibles, I was quick to sound the alarm.
Uneaten food. Uneaten food, people! 
I sounded the alarm for nearly fifteen minutes before anybody got the picture. Did I not bark loud enough? A guy's gotta wonder.
It's not like I don't spend enough time on outdoor patrol. Surveillance is my middle name! If it's even remotely nice outside, I will spend all day in the yard. I like to lay by the tree and survey the goings-on in the neighborhood through my fence.
I wasn't always this big, bad hombre. No ma'am. Need proof?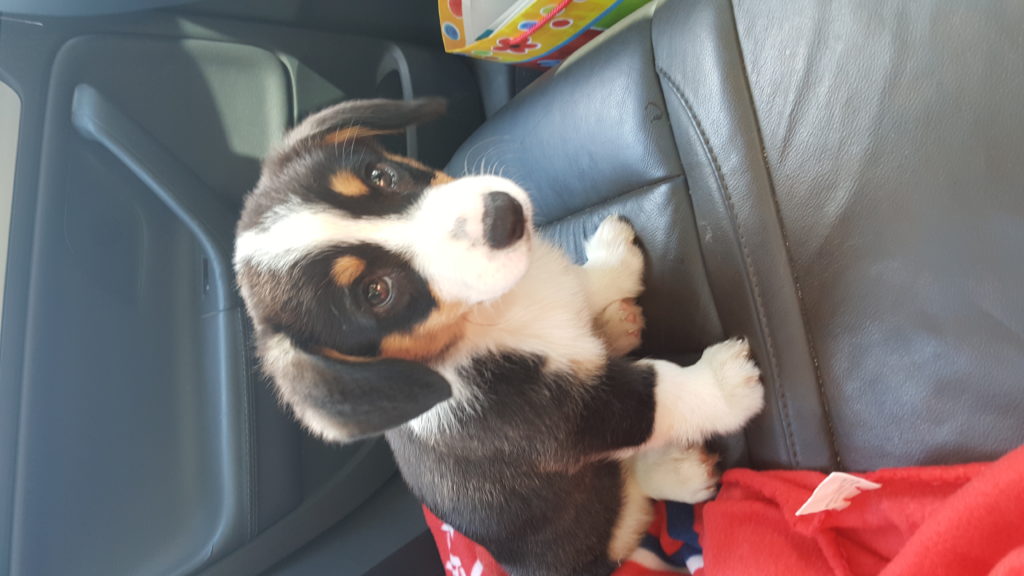 (Yes, I know this is lopsided. The lady who does this blog is something less than a technical whiz. Let's just leave it at that, shall we? Just cock your head a little to the side (or rotate your phone. Get creative).
At ten weeks, I joined the family, I have always had a big personality, regardless of my size. I know, easy to see. Come May 22nd, I will have a brand new human to supervise.
A new baby! Then there will be two of us baby brothers. How ya like them apples?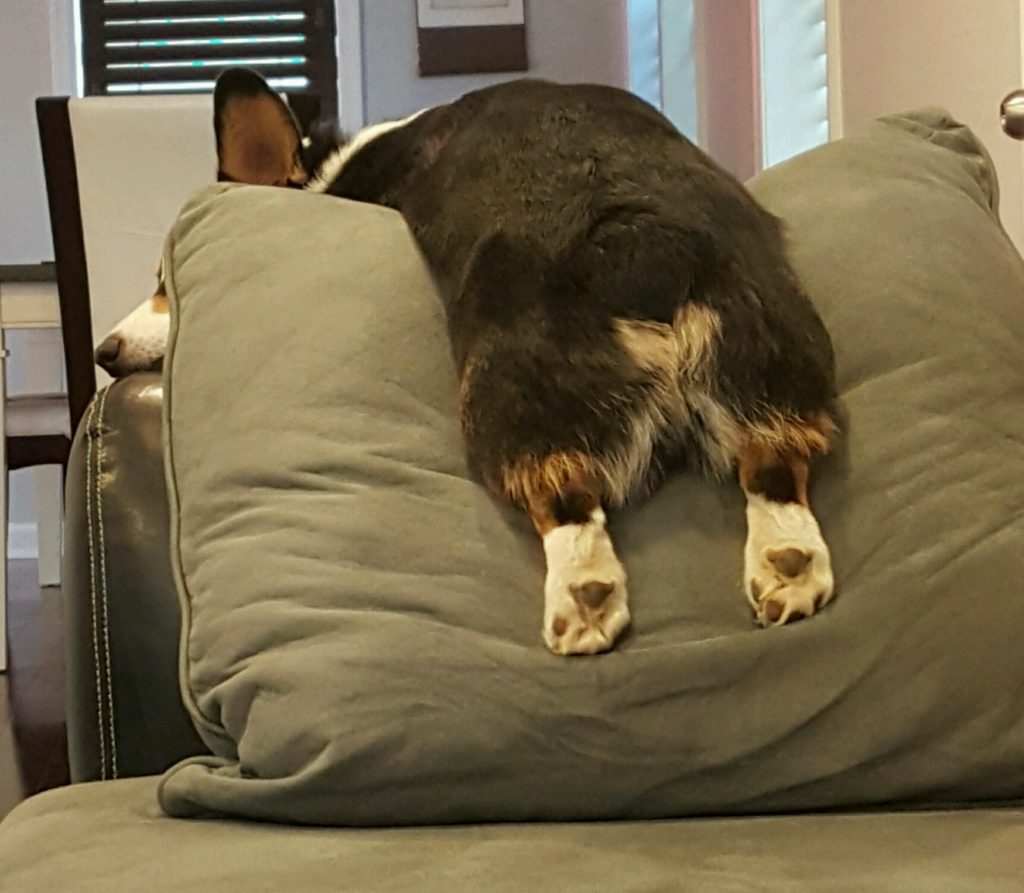 My obligatory bum shot.
I'm betting my recreational barking will be an important part of raising the kid. This face? Not just pretty. I've got jobs around here, and one of them is making sure nobody stays glum or upset for too long. Mom and Dad are not supposed to be upset, so says I! A gently placed paw on a leg or the occupation of a lap are important tools in my Feel Good Doggone It Kit.
They're surefire tools! Work every time, pretty much.
When I'm not barking at bagels, cheering up the family or surveilling the neighborhood, I have plenty of hobbies. Woodworking, for instance. I find sticks in the yard and bringing them over to our side door steps,  chew them to shreds and leave the scraps all over the stairs. Indoors, I often frolic with my squeak toys and an occasional tennis ball when one re-emerges from under a piece of furniture. (Until it rolls under furniture again).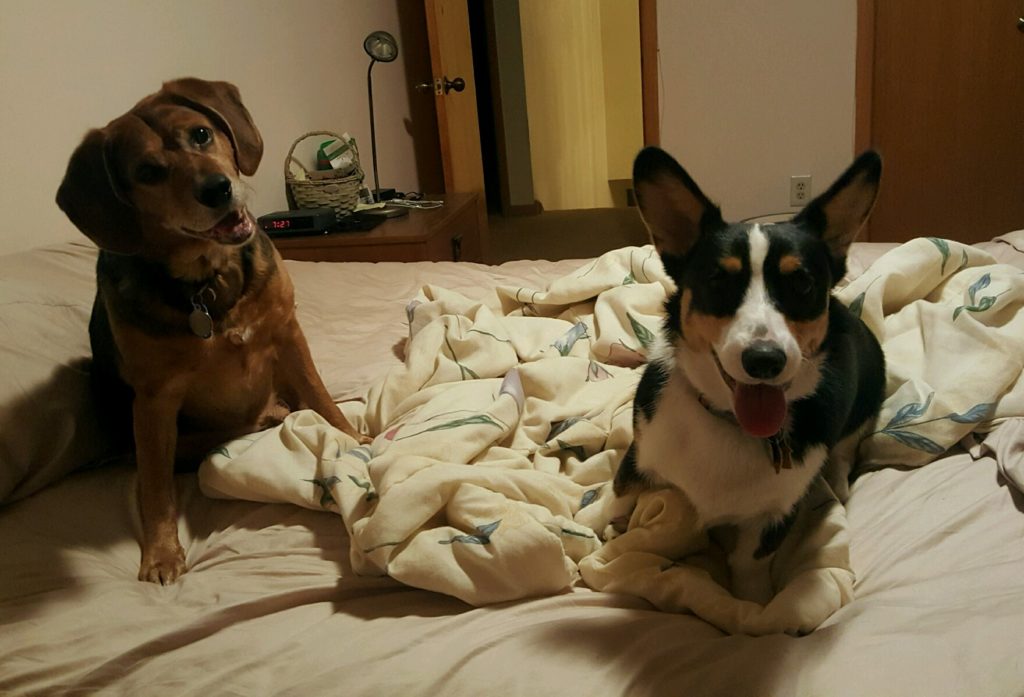 This is Rio, my grandmother's dog. He's ten and I adore him. Not sure he feels the same way about me, I like to think he plays it close to the vest. You know, tough guy stuff. Chuck Norris stylings and what not.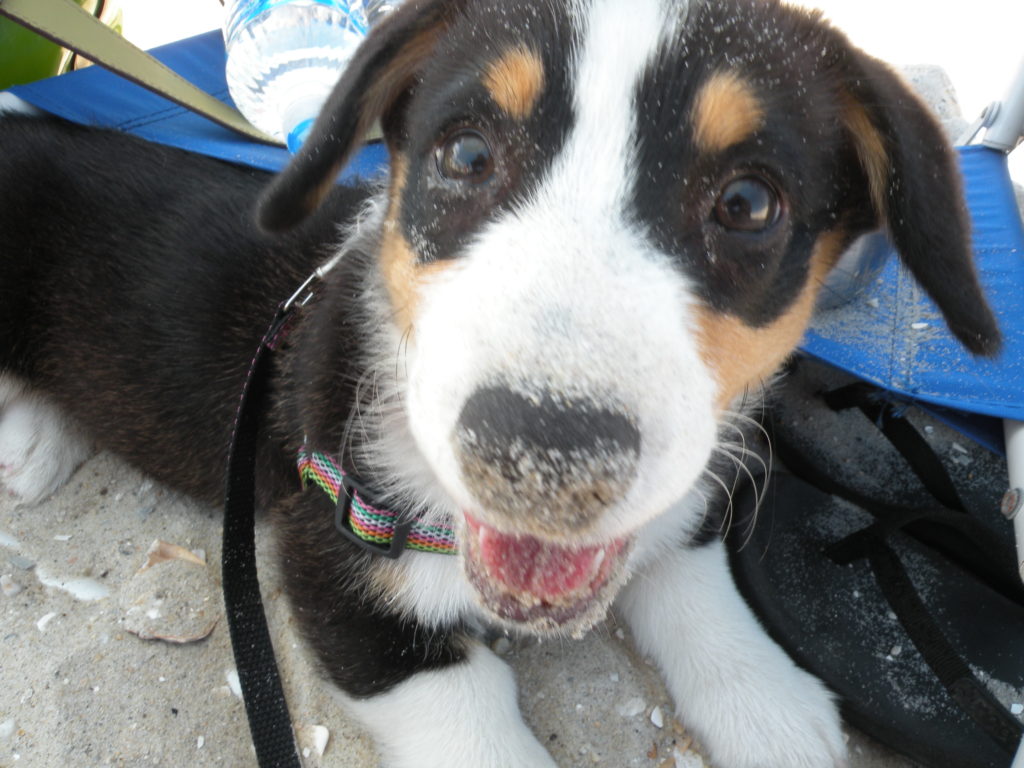 Did I mention that I hate any body of water I can't stand in? (Watch it with the short leg jokes). Bathtubs are OK. Anything bigger than that is a major nope and noper. Not going in, no way, no how.
I've been to the beach and love it, except for the Way Too Much Water thing. That's just excessive. I mean really. Who needs that much water, I ask you? I for one am outraged.
Ear-raising in progress! Me making it look easy.
One of my most impressive feats (and there have been at least a few) was getting my ears to stand up in one day. Mom left for work in the morning and by the time she got home, BAM! These babies were fully operational.
I like to go with Mom and Dad on some of their weekend trips with friends, where I'm apparently a crowd favorite. My FOMO refuses to let me sleep if anyone is up, even if I'm exhausted, to make sure I miss none of the fun.
And maybe I'm a little bit nosey too, but you didn't hear it from me. I prefer "inquisitive".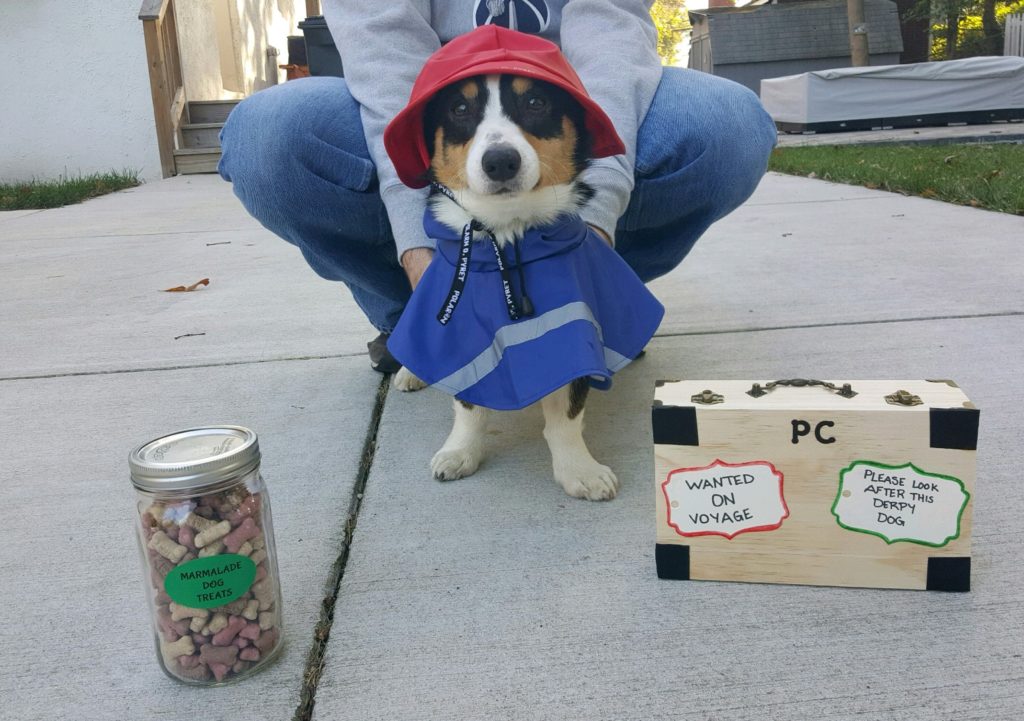 Yours truly is a BIG fan of costume play. Here I am giving Paddington Bear a run for his Euros.
Active in the DC area Corgi groups, I walk with the Annapolis Corgi Club in their annual Halloween Corgi Costume Parade. I enjoy strolling with the Corgi Corps in the Middleburg, Virginia Christmas Parade too.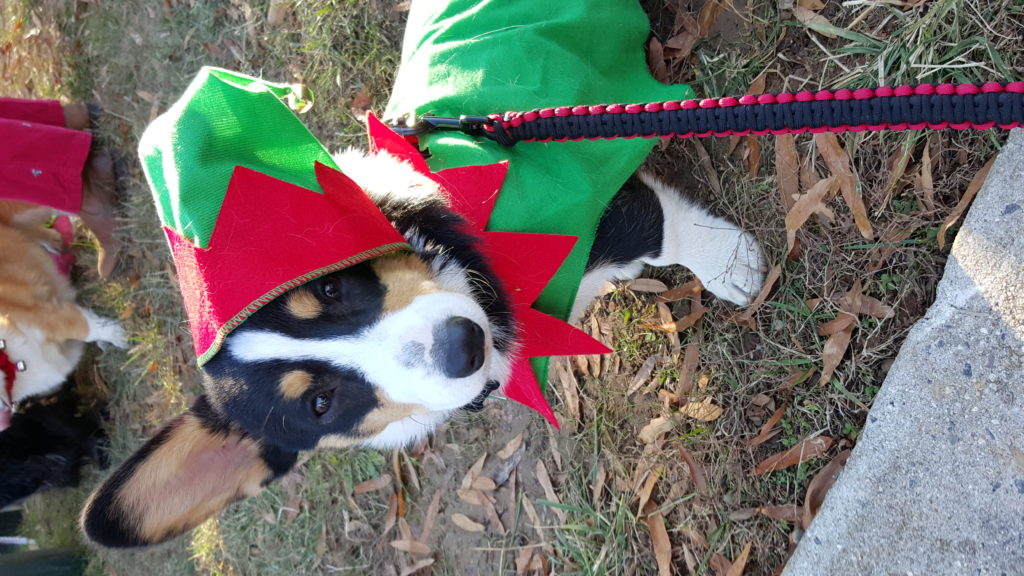 Ah yes, another impressive display of this blogger's technical chops. And it's after her bedtime, so I'm just going to stay like this on my side until she's sharp enough to fix it. Jolly on!
Yes, there is such a thing as Corgi Corps. At a Christmas parade. I know, life's pretty good sometimes right? It doesn't get much better than that.
So that's my whole story so far my friends, and I'm stickin' with it.
Watch this space for my further adventures. I'm sure I'll be back when my kid brother is born! I'll teach him everything I know.
It could take a while. And a lot of cookies.
If you liked this post, check out these!