My friends, did you know that you and your Corgis are the reason for my blog? I wouldn't still be here doing what I do, if I didn't know you all were still out there.
So it's a pleasure once more to feature a fresh bunch of your beautiful puppers. I savor these more personal posts and hope you do too!
I like to think my blog is still an outpost for the little guy (and gal!) and the many oh-so-beautiful Pem and Cardi Corgis out there who deserve their own fifteen minutes of fame.
Eight years in, I still believe in my blog. It might be growingly anachronistic, but if THAT ain't a compliment, I don't know what is. (Entre nous, it's code for old school cool).
I may be short on big league flash and dash, but I make up for it with love and I am here for the duration. How else am I going to avoid a life of bone idleness and disrepute?
Thanks for keeping me in line, and rocking my Corgi socks!
Laurie
p.s. Drop me a pic and a line or two about your dog: thedailycorgi@gmail.com.
I am grateful for this beautiful fluff Delta! She is a handful but always up for any adventure. She takes care of me and is always my loyal sidekick! Can't imagine life without this girl!
— Venus Zayas
Raleigh has been so good for my autistic daughter. She keeps us laughing. Raleigh was a rescue, and like the rest of the corgis, she thinks clean, folded laundry on a bed is for her.
— Patti Walsh
This is my rescue Corgi Cooper! I'm so grateful for his kisses and his high fives and I'm sure he's grateful for all the belly rubs. I love this little guy to pieces!
— Jennifer Scott
My precious Bailey is 11 and a half years young and always puts a smile on my face. From her soft woofs to her carpet diving, she is awesome!
— Carolyn Bateman
I'm grateful for Murray. He loves unconditionally and makes me laugh every day! ❤️
— Sarah Fox Baur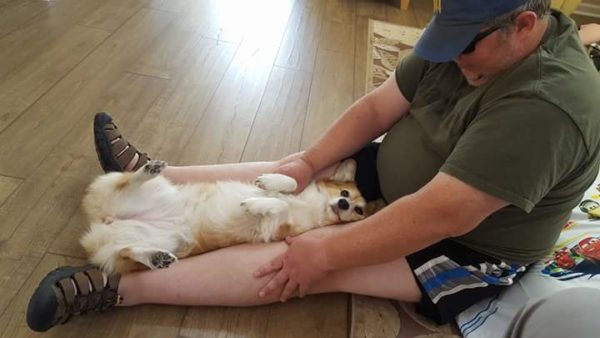 I'm grateful for this little lady. She may be getting up there in years but she's as spunky and affectionate as ever.
— Jenn YoAdrien
I am grateful for my handsome boy Wynn. I am his everything, and since recently becoming an empty nester, it's nice to still take of someone.
— Stacey Wooten Peer
My Bandit is so loving, cuddles only on his terms, and always has the last voice. So smart and too good of a watch dog. Lastly, he's great to nap with!
— Bobby Armstrong
Oli is my constant companion, my stumpy protector, and the best weirdo in my life. i'm lucky to have this grumpy little dog.
— Ashley Sneesby
This is Quinn and Blake, brother and sister. They entertain us everyday, we love them and couldn't imagine not having them. ❤️❤️
— K.S. Harty
My Bob. My shadow and my protector. My lover of all visitors. My baby chick helper. ❤️❤️❤️
— Lori Hamilton Shover