Jammer, Brodie and Hudson:

Thrice As Nice
Hello friends!
I am trying something new this year at Christmas and I hope you will be a part of it.
All year long, I am fortunate enough to share a whole lot of smile-worthy stuff here on The Daily Corgi.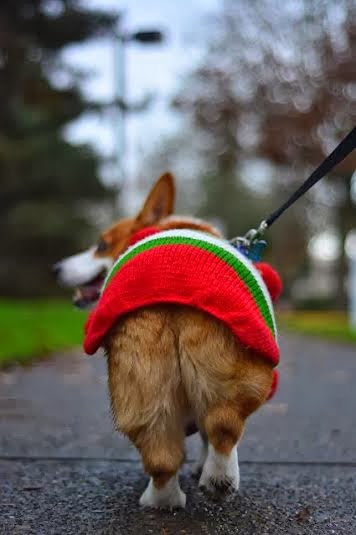 Example: Noodles and his butt.
Quietly on the sidelines though, I often hear from people struggling with a seriously ill Corgi, or a Corgi they have had to say goodbye to. And at the holidays, these hurts can feel bigger than ever.
BUT.
We as a Corgi-connected community have the power to ease some of this heartache, and it's as simple as sending (or receiving — or both) some Corgi-fied Christmas cards in the mail!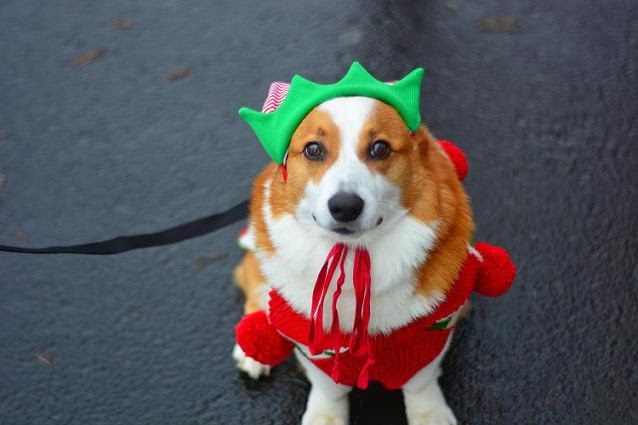 Noodles, elfing it up.
Here's how:
If YOU are heavy-hearted over a beloved Corgi and would like to RECEIVE some Corgi-fied Christmas cheer in the mail from other Daily Corgi readers, send me your mailing address. Please don't be shy … it's OK to ask. I need receivers as much as givers for my project!
On the other hand, if you have Corgi-themed Christmas cards (or a photocard with a pic of your Corgi, or just a Christmas card with a Corgi pic tucked inside) and would like to SEND a few out to fellow Corgi lovers in need of some holiday TLC, drop me a line! Tell me how many cards (1 to 10) you can mail. And if you could use a bit of cheer in return for your own heavy heart, include your mailing address.
My email is thedailycorgi@gmail.com. Include "corgi cards" in the subject line! 
Hudson and Brodie, with plans for that tree.
Be assured there is NO further obligation if you participate in my Caring Corgi Christmas Cards project. Also, I will only share your mailing address with the people I assign to send you cards. They will NOT receive your e-mail.
The deadline for submissions is Thursday, December 7th
Easy squeezy, right? C'mon, be my elf! Add this to your to-do list today and know that you (and your Corgi) are going to make the world a kinder, more loving place this year at Christmas.
And we can ALL use some of that.
Corgi On Caringly, my compadres!
Laurie
If you liked this post, check out these!