After years of yearning for a Corgi, Kelly and Dan welcomed Mr. Pickles Bartholomew McLemore into their lives.
"Once we saw his big Corgi smile, we knew he was the one!"
"Pickles is a people Corgi, he wags his nub when someone even glances at him! He gets lots of love and attention everywhere we go. Lots of times we'll be standing on a corner and someone will yell "Mr. Pickles!" from their passing car. He's very popular in the neighborhood."
His daily routine goes something like this: Frisbee, "Corgi hat" (sleeping on pillow behind head), Frisbee, offering toys to keep us from leaving for work, Frisbee, sleeping under the bed, Frisbee, couchball, Frisbee, chewing a rawhide, couch time and snuggles, and oh yeah — playing Frisbee!

All of which eventually tires a guy out.
Like any Corgi worth his biskies, Mr. Pickles has a long list of likes and dislikes.
LIKES:
Fabric tossing (deflated stuffed toy)
Chewies
Early morning snuggles
Car rides
Road Trips
Frisbee catching
Belly Rubs
Dog Beach
Rolling in the grass
BBQ's
The vet's office (believe it!)
Parties
DISLIKES:
Birds — always get away!
Swimming pools
Rainy days (no frisbees)
"We always knew we wanted a frisbee dog, but could a Corgi be a frisbee dog? We are here to tell you that yes, they can! Mr. Pickles started learning to catch frisbees as a young pup and now he just can't get enough of it. If he does not get his nightly "frizz session", he is a very unhappy Corgi!"
"Pickles also enjoys hiking outdoors and is the mascot for the Signal Hill Hiking Club. He loves agility and was first in his agility class, won a trophy too!"
"Every fourth of July we camp at a state beach, and Mr. Pickles puts on his frisbee act as a part of the annual talent show!"
"When we take him on his walk, all the kids want to hang out with him. He loves every second of it."
Mr. Pickles has a Facebook page
HERE
, and he'd like to share his adventures with you.
"This Friday, March 25th Mr. Pickles will be turning four. He's out best friend, and we couldn't imagine our lives without him!"
Click HERE to see Mr. Pickles' very cool video.
UPDATE on Mr. Pickles, July 28, 2015!


Fast forward to four years after this post was first published on The Daily Corgi (in March of 2011) …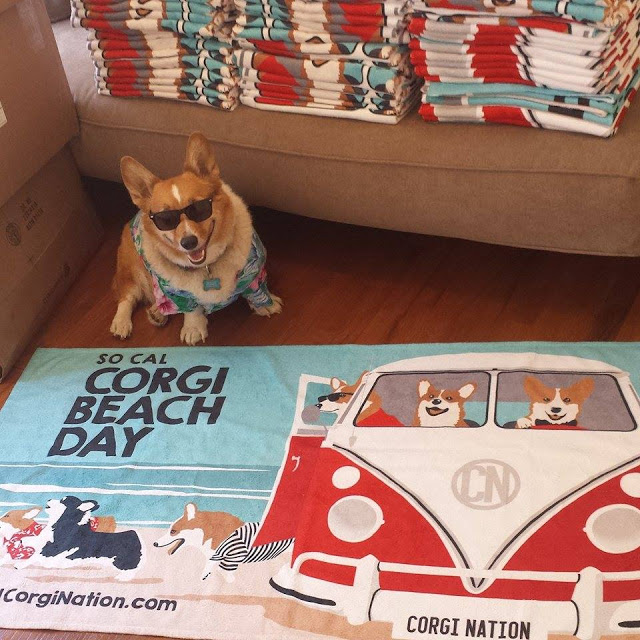 Mr. Pickles is now the official host and ambassador of the one and only So Cal Corgi Beach Day, a huge event that happens just a few times each year in Huntington Beach, California! On the 2015 Summer Beach Day, July 25th, 800 (yes eight hundred) Corgis and their people converged on Rosie's Dog Beach for a day of FRAP-tastical fun.







For more info on this wildly popular celebration, visit the So Cal Corgi Nation Facebook page or go to http://www.socalcorgination.com
* * * * *
Welcome to The Daily Corgi, Mr. Pickles!
You are one fine example of Corgi-kind!
If you liked this post, check out these!