Pembroke Welsh Corgis Dierks and Sadie Bells waited a long time for a little person to call their own.
When they finally got word of their baby bun in the people oven, Dierks and Sadie Bells were happy to help their folks Joe and Jaclyn announce it to the world.
With style and substance and short legs.
"Our parents are getting us a baby — January 2016"
Can we just pause a moment and ponder how awesome this is? Seriously. Look at them.


The world as we know it may be changing before our eyes, indeed the times are shifting right beneath our feet, but as long as there are CORGIS DOING THINGS LIKE THIS (and people taking pictures of it), I trust we'll survive the new world order.
Now where were we? Oh right, BABY!
So this happened, on January 13th, nearly a week after the baby's due date of January 2nd, 2016. Mom and Dad brought the tiny human home to her brother and sister …
… and it was good. Very, very good.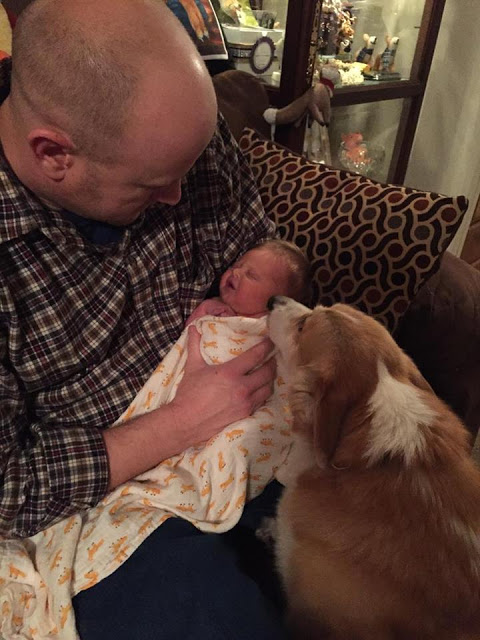 Official welcome home snifferooni.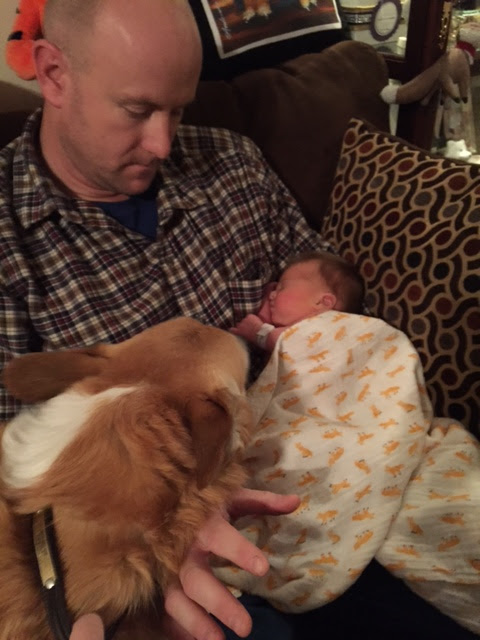 Baptism by gentlest Corgi kiss.
From the moment they met her, Dierks and Sadie Bells fell in love with their baby sister Lillian.
These two Very Helpful Corgis take their new job as her guard dogs/babysitters quite seriously.
And it is Officially Adorable, my friends.
They won't let her out of their sight.
Gone are the days of anybody (ahem) barking (and barking and barking) their fool head off. The ball can wait a while.
Wait, WHAT?!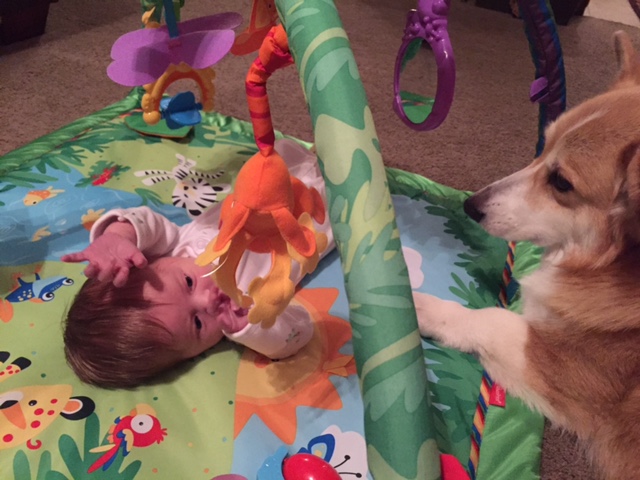 Yes, it's a serious business for serious Corgis. The tender tiny one needs quiet.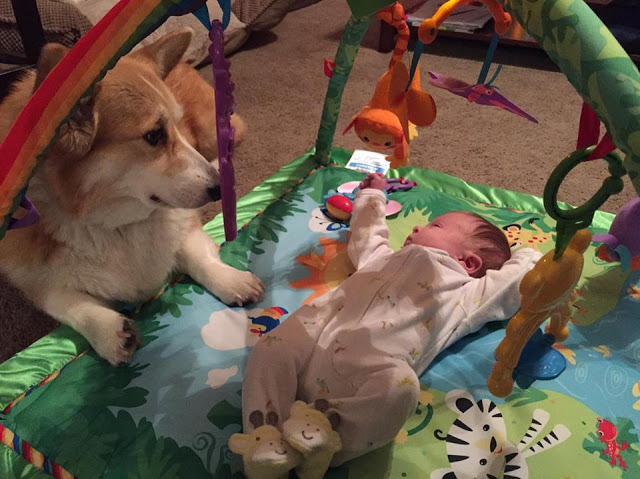 And Corgis CAN do quiet. When they want to. Really. Woof softly and carry a big responsibility? Check.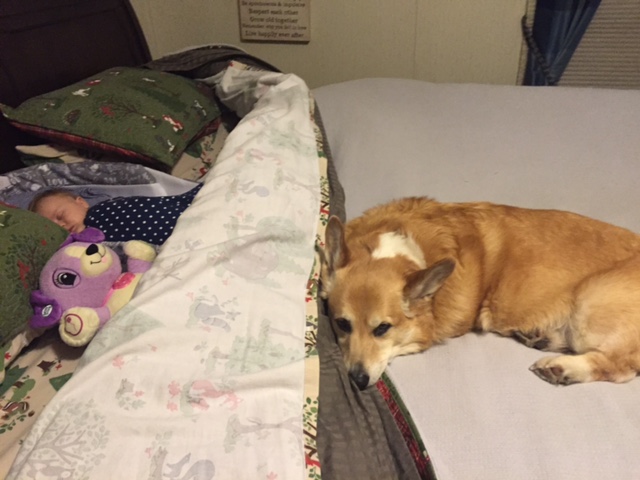 Because Lillian is their baby …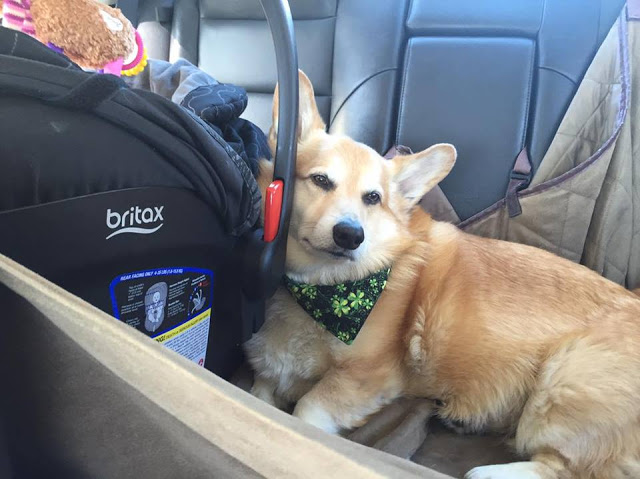 … they are endlessly sweet and gentle with her …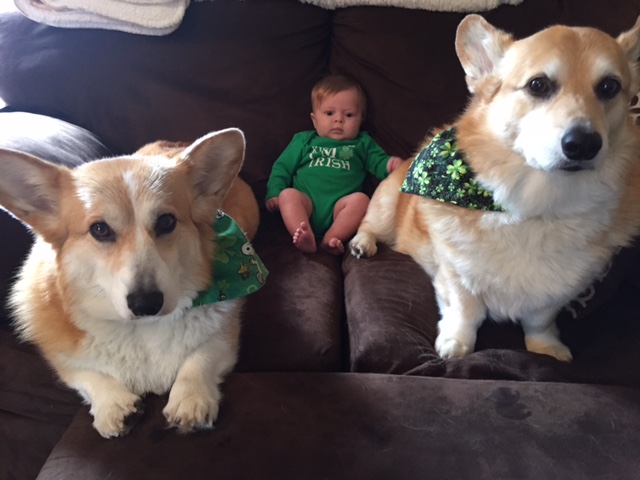 … but nobody is messing with the little miss.
Even when it involves "other duties as assigned".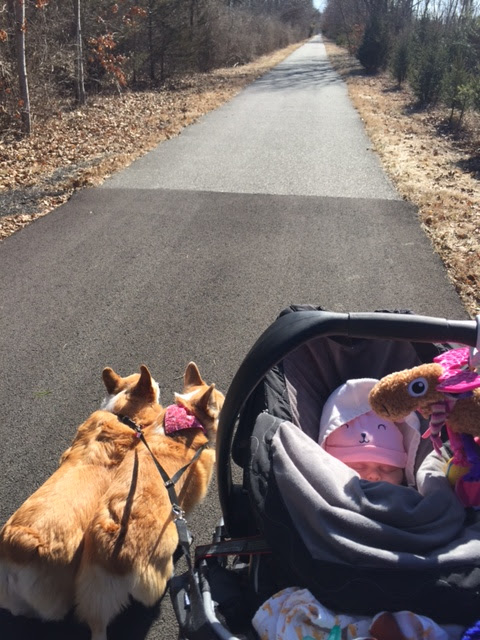 Unsurprisingly, these two relish daily walks with "their" Lillian on the rail trail.
How lucky is THAT kid? It's a sweeeeet life.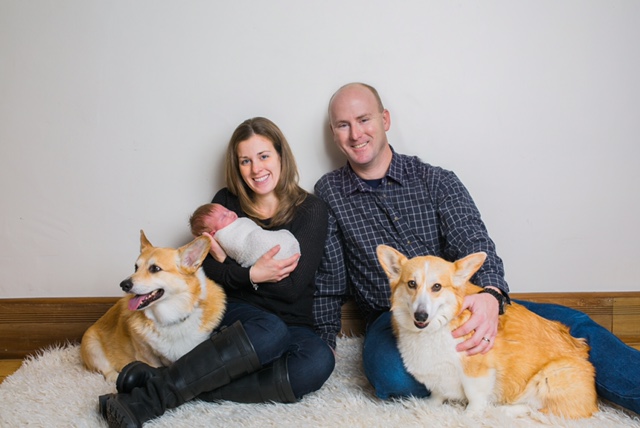 And her family couldn't be happier. Yep, these are the days. What riches! What awesome gifts of life!
Corgi On, all you lovely ones.